Thai Chicken Basil is an easy-to-make, classic Thai dish that you can make at home. You are in charge of the heat in this recipe. By adjusting the amount of peppers you can pump up the heat level by increasing the peppers or take it down a few notches by decreasing the amount of peppers in the recipe. Either way you can make it to your liking right in your own kitchen using fresh basil from your garden in the summer, or dried basil from the spice rack. Be sure to make enough so that you have left overs; wrap in crisp lettuce leaf for a delicious lunch or snack. If you like Thai food, you will love this recipe!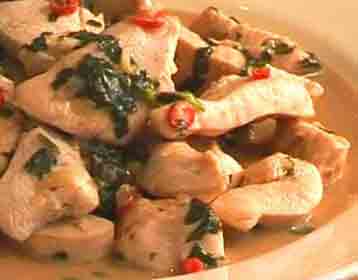 More great Poultry Recipes and learn how to Brine Poultry for a moister and tastier dish.
Thai Chicken Basil Recipe:
Keyword:
Thai Chicken Basil Recipe
Ingredients
1

tablespoon

olive oil 

1

tablespoon

garlic,

coarsely chopped

1/2

cup

onion,

coarsely chopped

1

pound

chicken breast

(boneless and skinless), cut into bite-size pieces*

2

tablespoons

fish sauce

(I use a little less)

1

tablespoon

soy sauce

2

tablespoons

water

2

teaspoons granulated

sugar

2

tablespoons

chile peppers

(Thai chiles, serranos, habenero, or jalapenos), coarsely chopped

1

packed cup Thai

basil

or other basil leaves

2

cups

rice,

cooked (optional)
Instructions
Heat a wok or large, deep skillet over medium-high heat. Add the oil and swirl it to coat the surface. Add the garlic and onion; stir briefly until they begin to release their aroma, about 45 to 60 seconds. Add the chicken pieces, tossing well so the meat browns evenly.

Add the fish sauce, soy sauce, water, and sugar; cook 2 to 3 minutes, tossing now and then, just until the chicken is cooked and the seasonings form a thin smooth sauce. Add the chile peppers and basil; toss and stir fry just until the basil just begins to wilt.

Transfer to a serving plate and serve hot or warm with cooked rice, if you desire. Garnish with some leftover basil leaves.
Recipe Notes
* The U.S. Department of Agriculture, as well as food agencies in the United Kingdom and elsewhere, advises against washing poultry.  Rinsing chicken will not remove or kill much bacteria, and the splashing of water around the sink can spread the bacteria found in raw chicken.  Cooking poultry to 165 degrees Fahrenheit effectively destroys the most common culprits behind food-borne illness.
Source: Recipe from the cookbook Quick and Easy Thai by Nancie McDermott.
Comments and Reviews