Questions and Answers – How To Bake Cheesecakes Ahead of Time
Question:
We are dining with over 24 adults and 40 children for Thanksgiving.  I have offered to make pumpkin cheesecakes.  I have searched the web for pumpkin cheesecake recipes that can be baked in a regular 9 x 13 cake pan.  NO LUCK.
Do you think I could use one of the recipes I came across asking for a regular springform pan and just double it?  What would your suggestion or answer be to this dilemma?  Could I make them a week in advance?   What time frame do you think is best?  Thank you for your time.
Answers:
I would not recommend that you bake the cheesecake in such a large pan.  As the baking is very critical to a good cheesecake, I would just buy a couple of new springform pans and make three (3) cheesecakes.  Because cheesecake is so rich, one (1) cheese cake can serve 10 to 12 people.
The reason that I love to make this pumpkin cheesecake for the holidays, is that it freezes beautifully and can be made many days ahead.  When ready to use, let defrost in the refrigerator.
You can make your cheesecakes now!  I made them as long as two months in advance.  Leave the bottom of the pan with the cake (only remove sides) when freezing.  Just wrap well with plastic wrap before freezing.  I have also wrapped an additional layer with aluminum foil over the plastic wrap.  When ready to defrost, defrost in the refrigerator.
I suggest that you use my Pumpkin Cheesecake recipe.  I have made it many times with success.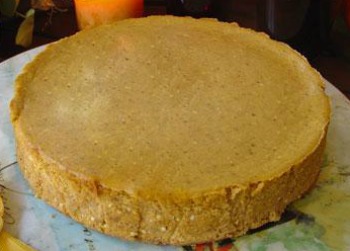 Check out all of Linda's tips and hints on baking cheesecakes:
Baking Cheesecakes Ahead Of Time
Comments and Reviews