Questions & Answers – Definition of Springform Pan
Question:
Please tell me the difference between a 9-inch round springform pan and a regular round 9-inch pan?
Answers:
What is a Springform Pan?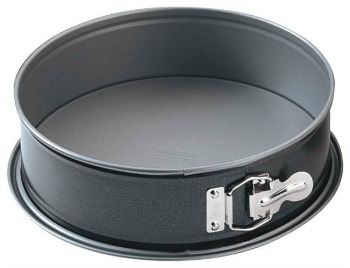 The Springform Pan is a two-piece pan that not only has sides that can be removed but the bottom comes out too.  There is a round base and an interlocking band, usually 2 to 3 inches high, that forms the sides, opening and closing with the flick of a latch.  The pan pieces are assembled for baking, and then, once the contents have cooked and cooled, the band is opened and removed.  Because the cake remains on the pan's base, the springform is perfect both for delicate confections, and for the flourless chocolate cakes, and creamy cheesecakes.
The standard Springform Pan comes with one base, a round platform that can be either smooth or dimpled with waffle-life indentations. Some people like the flat bottom for cakes and the dimpled one for crumb crusts or heavy concoctions.  They are actually interchangeable.
Used mostly in baking, this unusual pan has a fastener on the side that can be opened to remove the rim after the cake is cool.  They are available in a number of sizes, 9- and 10-inch diameter being the most common.  Cheesecakes or tortes baked in this type of pan can be served easily once the side of the pan is removed.
Question:
I am about to undertake making my first cheesecake.  I bought a springform pan at grocery store.  Since I have to bake the cheesecake by setting the pan in water, I tested the pan to see if water leaked in or out.  It did!   In and out when I put the springform pan (empty) into a pan of water.
Is this something to worry about, or will the cake batter and cheesecake mix be thick enough not to leak?  I am anxious to get this project going, but now I am not sure about the pan. Help!
Answers:
Wrap the outside (bottom and sides) of the springform pan with two layers of aluminum foil to prevent any leaking.
Following is how I bake cheesecakes:
Cheesecakes are egg based, and they need low heat.
Position baking rack in center of oven and place cheesecake in center of middle oven rack.
Place a shallow pan full of water on the lower rack in the oven.  The water will also help minimize cracking in the top of the cheesecake.
Check out my page on Baking A Perfect Cheesecake.

Question:
I am baking a chocolate truffle cheese cake and it requires a springform pan and I do not have on.  What type of pan can I substitute?
Answers:
I recommend that you purchase a springform pan.  A springform pan has a clasp on the side, which, when released, enables the sides of the cake pan to "spring away" from the cake.  There is no need to invert the cake to get it out of the pan.
If you need to bake this cheesecake now, without using a springform pan, I would use an 8" or 9" cake pan lined with parchment paper and also greased (buttered) to be able to remove the cake.  It is very hard to substitute for a springform pan.
Comments and Reviews