Questions and Answers – How To Make Toast Points
Question:
I'm making a gazpacho recipes that calls for a toast point garnish, however, that is all it says.  I'm guessing that this is toast with points, but what kind of bread, grilled or oven toasted, any seasonings.  I have looked through some recipe books and on the internet for any information, but alas, I remain clueless.  Help and thanks. – Beth (9/30/00)
Answer:
Toast Points:  Toast points are a triangular slice of bread that has been toasted.  Toast Points make a wonderful and versatile base for all kinds of appetizers and hors d'oeuvres.  Photo from Fine Cooking magazine.
Toast Points Recipe:

Ingredients:
One (1) loaf, good quality, thin-sliced white bread.
Unsalted butter, room temperature

Preparation: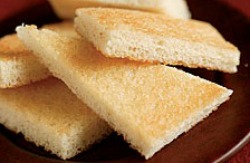 Preheat oven to 350 degrees F.  Trim the crusts off the bread and discard.
Slice the bread in halves on the diagonal, twice, to form four (4) triangles; set the bread on a baking sheet, brush one side with the butter.
Place the bread in a single layer on the baking sheet.
Toast the bread until it's golden brown and crisp on top, approximately 1 to 2 minutes.  Flip the toast points and cook the other side until golden, about 1 minute.  Remove from oven and cool the "points" on a baking rack.
Spread the cooled toast points with your choice of toppings
Toast Points can be made up to a day ahead; store them in an airtight container.
Comments and Reviews