Low fat, Low calorie – Low carbohydrate recipe
This Basil-Infused Vinaigrette recipe is excellent served on vine-ripened tomatoes from your home garden.  There is nothing like the smell of basil – one of the most recognized fragrances of summer.  Basil has become one of the most popular herbs in the garden today.  It is my favorite herb, especially in the summer and autumn when vine-ripen tomatoes are available.
There are many types of basil, which vary in size, color, and flavor.  All can be used for culinary purposes. If you are not lucky enough to grow your own basil, it can be found in your supermarket.  Look for evenly colored, bright green leaves with no sign of wilting or dark spots.
For more great Low Fat Recipes, Low Calorie Recipes, Low Carbohydrate recipes, and Diabetic Recipes, check out my Diet Recipe Index.  Also check out my Nutritional Chart for fat grams, fiber grams, and calories for all your favorite foods.
More of Linda's delicious Salad and Salad Dressing Recipes.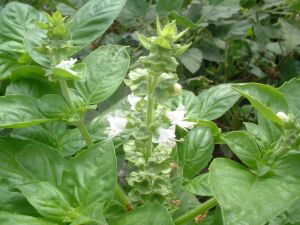 Basil Infused Vinaigrette Recipe
Keyword:
Basil Infused Vinaigrette Recipe
Ingredients
2

tablespoons

olive oil,

extra-virgin

1/2

cup

basil

leaves, freshly chopped, divided*`

2

tablespoons

balsamic vinegar

(good quality)

1

tablespoon

red wine

1

tablespoon

water

2

tablespoons

lemon juice,

freshly squeezed

2

tablespoons

grainy-style mustard

1

teaspoon

sugar
Salt

and coarsely-ground pepper to taste
Instructions
In a small saucepan over medium heat, heat olive oil; remove from heat and add 1/4 cup chopped basil leaves. Stir to coat the leaves. Let cool slightly.

Add balsamic vinegar, red wine, water, and lemon juice. Cover and let sit overnight.

The next day, strain out the basil leaves and discard. Add mustard, sugar, salt, and pepper.

Just before serving, add remaining 1/4 cup freshly-chopped basil leaves.

Recipe makes 1/2 cup (8 tablespoons) - 1 tablespoon per serving.
Each Serving Totals - 1 Fat Grams, 2.2 carbohydrates, 41 calories
Recipe Notes
* Learn all about using fresh basil in your cooking.
Comments and Reviews