This Stilton Blue Cheese Relish is an excellent relish, or even a salad, served with a smoked pork tenderloin roast.  On it's own, this Blue Cheese Relish also makes a wonderful salad or an appetizer relish.  This blue cheese relish or salad takes advantage of two classic pairings – walnuts with Stilton cheese and walnuts with apples.  Other blue-veined cheeses, such as Maytag, bleu d'Auvergne, or Danish blue, can be substituted for the Stilton Blue Cheese.  This recipe is so simple, but it always gets raves from everyone I serve it to.
This outstanding Stilton Blue Cheese Relish recipe was shared with me by Kieran Sienkiewicz of Portland, Oregon.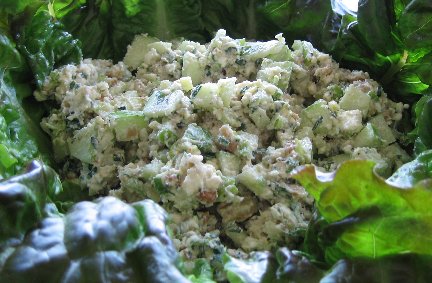 Stilton Blue Cheese Relish Recipe:
Keyword:
Stilton Blue Cheese Relish Recipe
Instructions
In a large bowl, add crumbled blue cheese; drizzle with just enough olive oil to coat.

Gently mix in red onion, green onion, garlic, and walnuts.

Just before serving, stir in sliced apples (make sure the apples have enough olive oil to keep them from turning brown. Add additional olive oil ifneeded). Add black pepper to taste.
Comments and Reviews