Dungeness Crab and Cabbage Salad is a very delicious and easy-to-make salad that features the outstanding Dungeness crab of the west coast.  Dungeness Crab and Cabbage Salad makes a great lunch or dinner entree as it is a refreshing salad that is very filling and full of flavor, especially crab.
I love Dungeness Crab and can not get enough of it during crab season in Oregon!  If you live on the west coast of the United States, do not miss out on the Dungeness crab season which usually begins in early November.  This crab is considered a West Coast delicacy that is prized for its tender and sweet meat.  According to the Oregon Dungeness Crab Commission, the species was reportedly named after a small fishing village on the Straight of Juan de Fuca in Washington.
According to James Beard (1903-1985), chef, columnist, and cookbook author – "A meal the Gods intended only for the pure in palate."
Check out more delicious Salads and Salad Dressing Recipes and Crab Recipes.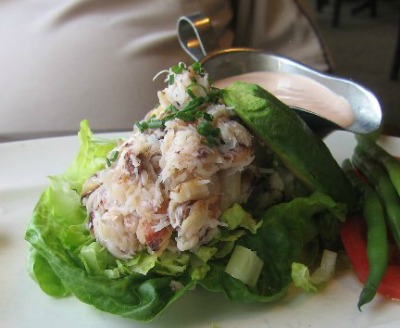 Dungeness Crab And Cabbage Salad Recipe:
Keyword:
Dungeness Crab And Cabbage Salad Recipe
Ingredients
Dungeness Crab and Cabbage Salad:
1

pound

Dungeness crabmeat

(body meat and leg meat separated)

1

pound Savoy or Napa

cabbage,

thinly sliced

1

red pepper,

roasted and diced*

4

tarragon

sprigs
Warm Tarragon Vinaigrette:
1

tablespoon

green onions

or shallots, finely chopped

1/4

teaspoon

garlic,

chopped

1

tablespoon

tarragon

leaves, freshly chopped

2

tablespoons

sherry vinegar

2/3

cup

olive oil,

extra-virgin

1

tablespoon

Pernod

(anise-flavored liqueur), optional

Black pepper,

coarsly ground
Instructions
Dungeness Crab and Cabbage Salad Instructions:
Prepare Warm Tarragon Vinaigrette.

In a large bowl, mix crab body meat, cabbage, and 2/3 of the Warm Tarragon Vinaigrette. Season to taste with additional salt and pepper. Place on individual serving plates.

In a small bowl, combine the crab legs, roasted red pepper, and the remaining 1/3 Warm Tarragon Vinaigrette; divide on top of the salads and garnish with a tarragon sprig. Serve immediately.
Warm Tarragon Vinaigrette Instructions:
In a small saucepan over high heat, whisk together green onions or shallots, garlic, tarragon, sherry vinegar, olive oil, and Pernod; simmer for one minute. Remove from heat.

Season with salt and pepper to taste.
Recipe Notes
* May use bottled roasted red peppers.
Source:  The recipe and photo is by Chef Kevin Simonson from the Domaine Carneros Winery in Northern California.
Comments and Reviews