This is my Favorite Spinach Salad – delicious, simple to make, and very festive looking!  Honest to goodness – this is my Favorite Spinach Salad recipe.
This spinach salad can be served as a main course with a bottle of your favorite wine and a fresh-baked loaf of bread.  I have made this Spinach Salad for numerous potlucks over the years, and I always get asked for the recipe – so be prepared.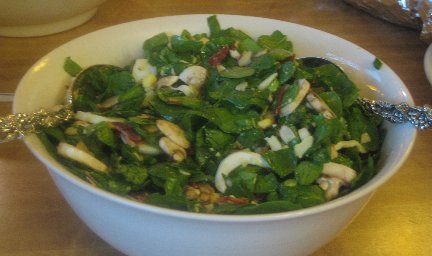 Favorite Spinach Salad Recipe:
Keyword:
Favorite Spinach Salad Recipe
Ingredients
2

bunches of fresh

spinach

leaves, washed, dried, and chilled*

4 to 6

slices of

bacon,

crisply freied or baked and crumbled**

1

(8-ounce) can

water chestnuts,

drained and sliced

4

eggs,

hard cooked and sliced

4 to 6

green onions,

chopped

Almonds,

sliced

1

cup fresh

mushrooms,

sliced

Italian salad dressing

(store bought is fine)
Instructions
Preparing Fresh Spinach: Like all greens, spinach should be washed as soon as you buy it. Loose spinach can be very gritty, so it must be thoroughly rinsed (it can not be washed enough). It grows in sandy soils that seem to cling to the growing leaves.

The easiest way to wash spinach is to put it into a sink or large container of cold water. Remove stems by twisting or cutting spinach leaves off just above stem line and immerse in water. Swish leaves around, then let them stand for a few minutes while dirt sinks to the bottom. Thoroughly dry by using a salad spinner (my favorite way) or by blotting with paper towels. Wrap in dry paper towels and seal in a plastic bag for storage.

Remove stems and veins from the spinach leaves (either discard or save for adding to your homemade soups). Tear spinach into bite-sized pieces; place spinach in a large bowl.

Add bacon, water chestnuts, eggs, green onions, almonds, and mushrooms.

Use 1/4 cup Italian salad dressing for 6 cups of spinach greens; toss gently and serve.
Recipe Notes
* Choose fresh spinach leaves that are crisp and have dark green with a nice fresh fragrance.  Avoid those that are limp, damaged, or spotted.
** Learn how easy it is to Oven-Bake Bacon. This is the way to get perfect crisp bacon without having to constantly turn it, watch over it, or get burnt by splatters of grease.  Cooking bacon can be a real challenge as frying bacon is a mess and microwaving has inconsistent results.  Baked bacon does not curl – you get nice straight bacon pieces every time.  This oven technique will solve all your bacon problems and is also especially great when serving a large crowd.
Additional Spinach Salad Recipes:
Spinach Salad with Mandarin Oranges
Spinach Salad with Strawberries
Spinach Salad with Pickled Eggs and Blue Cheese
Comments and Reviews