Insalata Caprese Salad, also known as Mozzarella, Tomato, and Basil Plate is one of the simplest and most delicious of summer salads.  It requires only the right ingredients and the right season:
Insalta Caprese Salad is basically a summer dish that should be made only with local vine-ripened tomatoes that are red, juicy and flavorful but not overly soft, and preferably unrefrigerated.
The next ingredient should be truly fragrant, flavorful young basil leaves. Green basil grown in the earth and sun, not the hydroponically grown giant leaf variety which has little flavor.
The next essential ingredient is good quality fresh mozzarella cheese.  Good fresh cow's milk mozzarella (called Fior di latte) does just as well.  Never use the yellow plastic-sheathed supermarket variety!
Finally, you need genuine extra-virgin olive oil and only olive oil, the best you can afford.
With a good quality fresh bread and a glass of cool or slightly chilled white wine, Insalata Caprese Salad makes an excellent summer lunch or, in a small portion an ideal first course for a summer meal.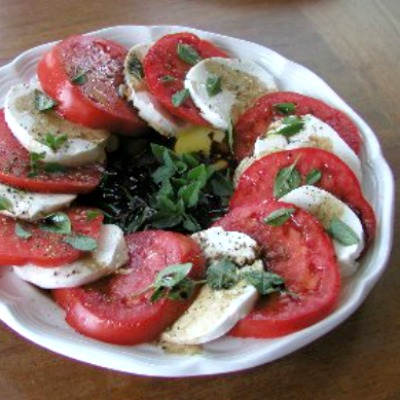 Insalata Caprese Salad - Mozzarella, Tomato and Basil Plate Recipe:
Keyword:
Insalata Caprese Salad - Mozzarella, Tomato and Basil Plate Recipe
Instructions
In a circular design around the side of a serving plate, alternate fresh mozzarella slices on a large platter (or on individual plates if you are doing individual portions) with sliced tomatoes, overlapping for effect.

Tear fresh basil leaves and sprinkle liberally over the slices. Add salt and freshly ground pepper to taste. Sprinkle capers over the top.

Just before serving, drizzle on some top-quality extra-virgin olive oil.

NOTE: Insalata Caprese should never be allowed to sit in oil for any length of time and become soggy, and no vinegar of any kind goes on true a Insalata Caprese!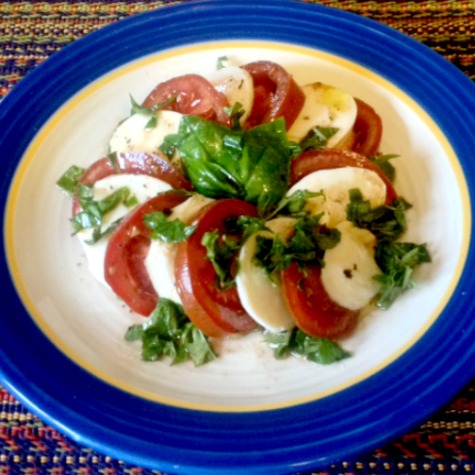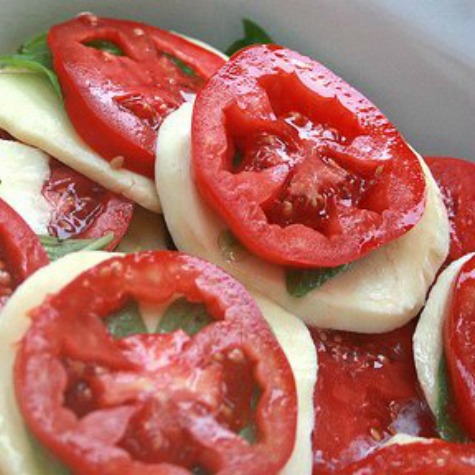 Comments and Reviews