While my daughter was on her beach vacation, she was introduced to fresh raw corn in a salad.  She loved the wonderful sweetness and crunch of the raw corn that really complimented the salad greens.  When she came home she had to recreate this salad and also used some salad greens from her garden.
Try throwing some fresh raw corn into the mix of your next summer salad!  Also try another delicious Fresh Corn Salad.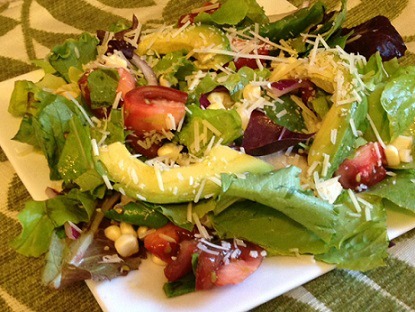 Summer Salad with Fresh Corn Recipe:
Keyword:
Summer Salad with Fresh Corn Recipe
Ingredients
Summer Salad with Fresh Corn:
Fresh sweet

corn,

husked and silk removed*

Mixed

salad greens,

washed, dried, and torn

Kumato Tomatoes,

chopped into large pieces**

Red onion,

thinly sliced and quartered

Avocados,

sliced

Parmesan Cheese

(Parmigiano-Reggiano), grated
Basil Infused Vinaigrette:
2

tablespoons

olive oil,

extra-virgin

1/2

cup

basil

leaves, chopped and divided

2

tablespoons

balsamic vinegar

(good quality)

1

tablespoon

red wine

1

tablespoon

water

2

tablespoons

lemon juice,

fresh squeezed

2

tablespoons

grainy-style mustard

1

teaspoon

sugar
Salt

and coarsely-ground pepper to taste
Instructions
Summer Salad with Fresh Corn Instructions:
Prepare the Basil Infused Vinaigrette; set aside until ready to use. Serve vinaigrette at room temperature. Shake or stir just before serving.

Scrape the corn kernels from the ears of corn by using a sharp kitchen knife and a large cutting board. Cut off the stem end to give a flat base. Hold the ear, tip end up, then cut downward, removing a few rows at a time.

In a large salad bowl, add the corn, salad greens, Kumato tomatoes, onion, avocadoes, and parmesan cheese. If preparing the salad in advance, do not add the avocados and Parmesan cheese until ready to serve.

When ready to serve, drizzle the Basil Vinaigrette over the top of the salad and toss to combine.
Basil Infused Vinaigrette Instructions:
In a small saucepan over medium heat, heat olive oil; remove from heat and add 1/4 cup chopped basil leaves. Stir to coat the leaves. Let cool slightly.

Add balsamic vinegar, red wine, water, and lemon juice. Cover and let sit overnight.

The next day, strain out the basil leaves and discard. Add mustard, sugar, salt, and pepper.

Just before serving, add remaining 1/4 cup freshly-chopped basil leaves. Serve at room temperature.

Makes approximately 1/2 cup.
Recipe Notes
* See below on how to choose fresh corn on the cob.
** Kumato tomatoes differ from the traditional red tomato in color and taste. The color of a Kumato tomato varies from a dark brown to a golden green color.  They are also sweeter (contain a higher brix) than normal tomatoes with a more intense flavor and are juicy with a firm texture.  These tomatoes are edible in all different color growth stages.  Perfect to serve in salads and other tomato based recipes.  Learn about the Kumato Tomatoes.  Note:  Any tomato variety, of your choice, may be substituted.
How To Choose Fresh Corn – How To Choose Corn On the Cob: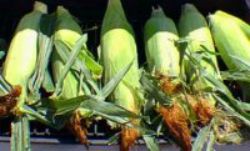 Fully ripe sweet corn has bright green, moist husks.  The silk should be stiff, dark and moist.  You should be able to feel individual kernels by pressing gently against the husk.
As soon as corn is picked, it's sugar begins a gradual conversion to starch, which reduces the corn's natural sweetness.  Corn will lose 25% or more of its sugar within 25 hours after harvesting it.  Fresh corn, if possible, should be cooked and served the day it is picked or purchased.
Between purchasing and cooking, keep the corn moist and cool.  Pack in a cooler for the trip home from farm or market and refrigerate corn immediately after taking it home.  By refrigerating the corn it helps the corn stay sweet by not letting the sugars turn to starch.
If for some reason corn is not being used immediately or has been purchased from the supermarket, add sugar to replace that which has been lost.  Add one teaspoon sugar for each quart of water.
Use within 2 or 3 days.
Comments and Reviews