Tomato Aspic gelatin salad is a favorite old-fashion family comfort food that our family makes and serves for Thanksgiving Dinner every year.  My mother always made this delicious tomato aspic dish every year.  Very easy to make and so refreshing and delicious!  If you think of tomato aspic as a congealed Bloody Mary cocktail drink, you kind of know what it tastes like.  So, what's not to love?
History:  Aspics are made of gelatin, most often served in the shape of a fancy mold.  They date back to the middle ages, with a detailed recipe of aspic being written in 1375.  Aspics were first made in the United States in the 19th century.  At that time, grocery store packets of gelatin did not exist, so making gelatin was an incredibly time-intensive process that required the boiling of animal bones and hooves to extract the collagen.  The broth simmered for several hours until it became a protein rich and velvety.  It was then clarified, and, once cooled, the liquid set into what most folks would recognize as gelatin.
Powdered gelatin, was patented by Peter Cooper, an American industrialist, in 1845. This innovation eliminated the need to boil down animal parts for hours and hours to get gelatin.  It also meant that not all gelatin had to be savory, and sweet gelatin dishes were created around this time, too.  In the 1950s, aspic recipes were all the rage.
Do not forget to check out my Thanksgiving Turkey Dinner Menu which includes Tangy Tomato Aspic.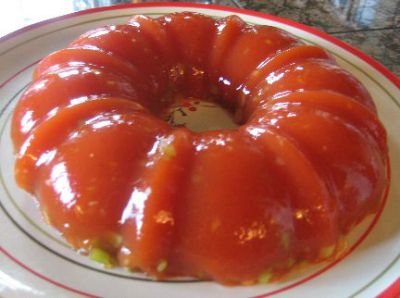 Tangy Tomato Aspic Recipe:
Keyword:
Tangy Tomato Aspic Recipe
Servings
:
4
to 6 servings
Ingredients
1 1/4

cups

boiling water

1

(3-ounce) package regular lemon-flavored

gelatin*

1

(8-ounce) can

tomato sauce

1 1/2

tablespoons

wine vinegar

1/2

teaspoon

salt

1

teaspoon

onion,

finely minced

1/8

teaspoon

hot pepper sauce

Cloves,

ground (to taste)

2

cups

celery,

diced

Lettuce
Instructions
In a small bowl, pour boiling water over gelatin, stirring until dissolved. Stir in tomato sauce, wine vinegar, salt, onion, hot pepper sauce, and cloves; refrigerate until slightly thickened but not set.

When slightly thickened, remove from refrigerator and stir in diced celery. Pour into a 4-cup mold. Refrigerate until firm.

To serve, unmold onto a bed of lettuce.

NOTE: I usually need to double this recipe for my family.
Allow gelatin to set until completely firm, several hours or overnight.

Before unmolding, dip knife in warm water and run knife around edge of gelatin to loosen.

Dip mold in warm water, just to rim, for 10 seconds.

Lift from water and gently pull gelatin from edge of mold with moist fingers. Place moistened serving plate on top of mold. Gently remove mold.
Recipe Notes
* If you are cutting calories, use sugar-free lemon-flavored gelatin
More Delicious Gelatin Salad Recipes:
Applesauce 7-UP JELL-O Salad
The applesauce and 7-UP soda make this JELL-O a denser consistency.  With the topping of the whipped cream mixture, it reminded my husband of Key Lime Pie flavors.  We agreed it was just plain delicious and finished our plates!
Fiesta Carrot Pineapple JELL-O Salad
Here is a classic JELL-O recipe that is light and refreshing!  This salad is also sometimes known as "Sunshine Salad."
JELL-O Sawdust Salad
JELL-O Salad layered with pineapple, marshmallows, bananas, and cheddar cheese.  Here is another classic JELL-O recipe from the 1950's that is found in most southern cooks' recipe files.
Red Hot Applesauce JELL-O Salad
The Red-Hots are used to add a tasty cinnamon flavor to this JELL-O dish.  This is a great side dish that many families like to serve at holiday meals to accompany ham or pork.  Great served as a side dish and it looks so beautiful!
Source: The original recipe comes from the 1970 Betty Crocker's Cookbook.  Our family has slightly changed the original recipe.
Comments and Reviews