Radish Poppy Seed Tea Sandwich is an absolute must try recipe!  Yes, I will admit this combination sounds odd but sometimes it is the oddest contrasts that are blended together that makes a unique taste.  This flavor is a cool burst of a summer garden on your first bite.  It is a fabulous tea sandwich to add to your tea menu.  The radish, cream cheese and poppy seeds are truly delicious, especially when you use young Spring radishes.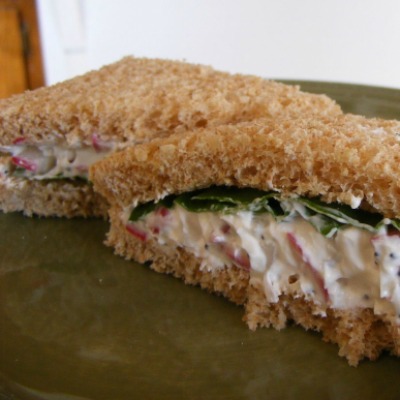 Radish Poppy Seed Tea Sandwich Recipe:
Keyword:
Radish Poppy Seed Tea Sandwich Recipe
Servings
:
8
whole sandwiches
Instructions
In a medium bowl, combine minced radishes, poppy seeds, cream cheese, and salt; blend well.

Spread one side of each piece of bread lightly with butter. Top the buttered side of 4 slices of bread with radish mixture (about 1/4-inch thick). Top with arugula, spinach, or radicchio leaves and then top with the remaining bread slices, buttered side down.

Carefully cut the crusts from each sandwich with a long, sharp knife. Cut the sandwiches in half diagonally and then cut in half again. If desired, decorative shapes can be made with cookie cutters.

Yields 4 whole sandwiches or 8 halves or 16 fourths.

Making Sandwiches Ahead of Time:

If you need to make tea sandwiches in advance and need to keep them from drying out, cover them loosely with a sheet of wax paper and then place a damp kitchen towel over the wax paper (never place a damp towel directly on top of the bread because the sandwiches will become soggy). Refrigerate.

When ready to serve, remove from refrigerator. Uncover sandwiches just before serving.
Recipe Notes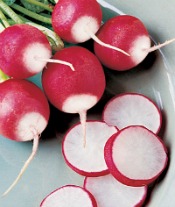 * Radishes are usually sold with their leaves attached.  Look for bunches of radishes with crisp green leaves.  Also choose the ones that the radish globe that are 1 inch or less in diameter to assure a mild flavor and not a woody texture.  Radishes will keep in the refrigerator for up to 2 weeks wrappped in a damp cloth or perforated plastic bag.
** Choose the best-quality white or wheat bread as possible.  Never serve end slices.  Freezing the bread before cutting and then spreading makes for easier handling.
Comments and Reviews