The delightful crunch and mild pungency of these Radish Sandwiches, as well as the mellow rich saltiness of butter, complement the muffins perfectly.  These radish sandwiches on muffins would actually be perfect for late summer, when zucchini and basil plants are growing abundantly.  They are bright and colorful, with green specks of zucchini and basil and the vivid red slices of radish add a touch of pizazz!
To learn about the history and legends of favorite sandwiches, check out the History of Sandwiches.
Check out my English High Tea Menu.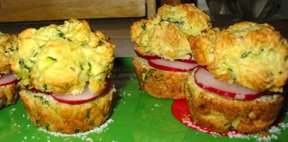 Radish Sandwiches on Zucchini Basil Muffins Recipe:
Keyword:
Radish Sandwiches on Zucchini Basil Muffins Recipe
Instructions
Preheat oven to 400 degrees F.

In a small bowl, whisk together the flour, salt, baking soda, baking powder, and the pepper; set aside.

In another bowl, cream together the shortening and sugar; beat in the egg and the buttermilk (beating until the mixture is combined well). Stir in the grated zucchini and the basil. Add the prepared flour mixture to the zucchini mixture, stirring the batter until it is just combined.

Spoon mixture into a well-greased mini muffin tins (each 1/8 cup). Bake the muffins on the middle rack of your oven approximately 15 to 18 minutes, or until a tester comes out clean. Remove from oven and turn the muffins out on a wire rack and let them cool.

To serve: Halve the muffins horizontally, spread the cut sides with the butter, and sandwich the radish slices between the muffin halves.
Recipe from Gourmet Magazine, July 1990.  Photos are courtesy of Alice Essinger.
Comments and Reviews