Tea Travels!™… Pumpkin Curd Recipe
Recipe and photo by ©Ellen Easton 2013 – All Rights Reserved
Pumpkin Curd is a sweet, yet tart, velvety pumpkin spread that is heavenly on freshly baked scones, muffins, and tea breads.  This is a definite "must try."
Everyone seems to know about the delicious lemon curd which is a British teatime favorite, but now you also can make Pumpkin Curd.  Curds are traditionally fruit based, but experimenting with flavors that complement your menu can bring an added texture to a menu.  This pumpkin curd recipe is delicious on scones or toast, may also be used as a tartlet filling.
Check out more of Ellen Easton's excellent and informative Tea Travels™ articles and recipes.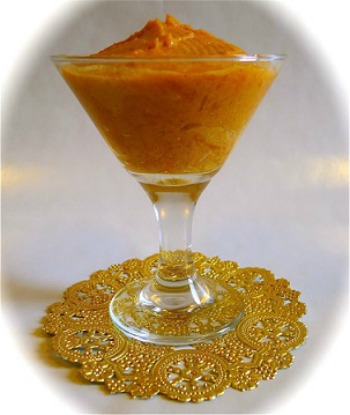 Pumpkin Curd Recipe:
Keyword:
Pumpkin Curd Recipe
Ingredients
2

pounds fresh

pumpkin,

halved, seeded, and cut into 1 1/2-inch pieces OR 2 cups of canned pumpkin puree

2

inches of fresh

ginger

root, peeled and grated

2

cups granulated

sugar

1/8

teaspoon

nutmeg,

ground

3/4

cup (1 1/2 sticks or cubes)

unsalted butter,

cut into cubes*

4

eggs,

beaten
Instructions
If using fresh pumpkin, place the prepared pumpkin pieces into a saucepan. Add 1 cup water and bring to a boil; reduce heat to low and let simmer until tender. Remove from heat and drain (reserving the liquid).

Puree the pumpkin solids in a blender, adding just enough of the reserved pumpkin liquid to allow the blades to run with ease. NOTE: If using canned pumpkin puree, you can skip these steps.

Using a garlic press, squeeze the ginger and reserve the juice. Discard the ginger solids.

In a medium-size saucepan over medium-low heat, place the lime zest and juice, ginger juice, pumpkin puree, nutmeg, and sugar. Stir until the sugar completely dissolves. Remove from heat and strain the pumpkin mixture into a heat-proof bowl set over a saucepan or double boiler of barely simmering water. Add butter and stir until completely melted.

Using a fine strainer, pour the beaten eggs through it and into the bowl with the pumpkin mixture. Continue cooking, stirring often at the beginning and then continuously at the end, until the mixture coats the back of a spoon, approximately 30 minutes. Do not let it boil or the mixture will curdle.

Remove from heat and pour the Pumpkin Curd mixture into warm sterilized glass preserving jars. Seal and let cool. The pumpkin curd will continue to thicken as it cools.

Use immediately or store in the refrigerator for one (1) week.

Excellent on scones and toast, as well.
Recipe Notes
*  Cold limes are much easier to grate.  Always grate your lime first, and then juice them.  Grate lemons just before using as the zest will lose moisture if it sits too long.
**  Use good quality butter.  Do not use butter substitutes.
---
Ellen Easton is a lifestyle industry leader, tea and etiquette authority, author of Afternoon Tea~ Tips, Terms and Traditions, A Tea Party Planner and Tea Travels™ For The Holidays (RED WAGON PRESS), as well as a hospitality, design and retail consultant, whose clients have included The Waldorf=Astoria and The Plaza.
Easton's family traces their tea roots to the early 1800s, when ancestors first introduced tea plants from India and China to the Colony of Ceylon, thus building one of the largest and best cultivated teas estates on the island.
REVA PAUL, an internationally acclaimed confectionery artist, hand decorated floral sugars and mints are available by special order for teas, weddings, and special events. Wholesale/Retail – Bulk & Gift boxed.  All prices on request via RED WAGON PRESS (212) 722-7981.
AFTERNOON TEA…TIPS,TERMS and TRADITIONS
By Ellen Easton
72 pages of how to's, 27 photos, history, etiquette and FAQ about afternoon tea, serving styles and more.  "Tea is the luxury everyone can afford!™"

TEA TRAVELS™FOR THE HOLIDAYS
By Ellen Easton
64 pages, 21 color photos.  A complete holiday menu includes 25 easy to prepare recipes; theme teas, decorating and gift ideas; invitation template and secret sources.
Each 5 x 7 paperback book fits into an A-7 envelope for easy mailing, great gift or party favor item.  Each book is $20.00 post paid.  Continental US Only.  Final sale. (Wholesale and Fundraising accounts are welcome.  Call for Special Prices).  Please include your name, address and telephone number for shipping. Please make check or M.O. payable to:  RED WAGON PRESS and send to: RED WAGON PRESS, 45 East 89th Street, Suite 20A, NYC, NY 10128-1256
TEA TRAVELS™, Wishing You Happy TEA TRAVELS!™, "Tea is the luxury everyone can afford!™" and Good $ense For $uccess™ are the trade marked property of Ellen Easton/RED WAGON PRESS.
Comments and Reviews