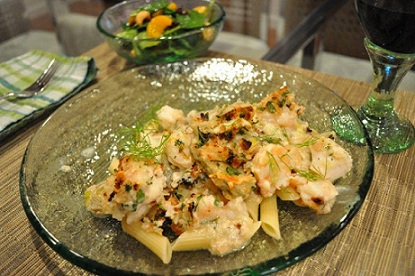 Creamy Seafood Casserole
This makes a wonderful casserole for company with its rich, creamy goodness in every bite!  The additions of fennel, leek, garlic, and fresh herbs add a delightful depth of flavors to the dish.

Scallop Fish Tacos
My friend, Karen Calanchini of Redding, CA, created this wonderful fish taco recipe.  A fun way to enjoy the fresh flavors of Mexican cuisine all wrapped up in a soft taco.  This will even work with your diet!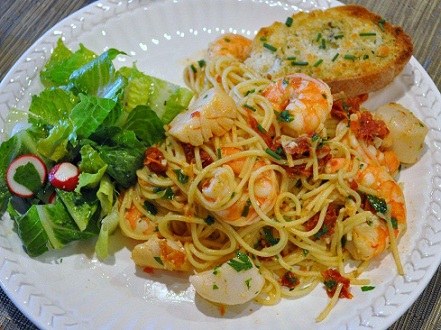 Seafood Spaghettini with Herbs and Fresh Lemon
A simple green salad dressed with a light vinaigrette and some crusty bread is all you need with this tasty dish.
Sea Scallops Fra Diavolo with Linguine
I came across this recipe in Cook's Illustrated Magazine, November 1, 2001, and was fascinated with the flambe part.  So I did my research on how to flambe and proceeded with caution to gain a new experience.  This is a colorful dish, very elegant and tasty.  One change I made was to use garden fresh tomatoes that I had dried slightly in the oven rather than the canned tomatoes they suggested in the original recipe.


Seared Autumn Spice Scallops
Spicy seared scallops with cranberries.  A perfect meal for the autumn season or any time of the year.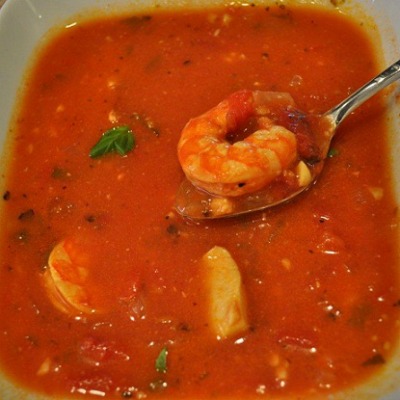 Shrimp and Scallop Soup with Tomatoes and Basil
This delicious Shrimp and Scallop Soup recipe and photo were shared with my by Karen Calanchini, Food Stylist and Photographer, of Redding, CA.  Karen says, "I've made this fabulous soup dozens of time and always with rave reviews from my guests."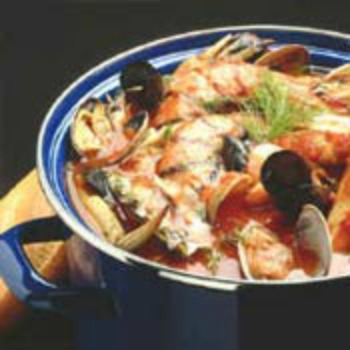 San Francisco Cioppino
Cioppino (pronounced chuh-PEE-no) is considered San Francisco's signature dish, and no trip to this West Coast city would be complete without a bowlful.  Because of the versatility of the ingredients, there are numerous recipes for it.  Cioppino can be prepared with a dozen kinds of fish and shellfish.  It all depends on the day's catch of your personal choice.

Comments and Reviews