These fantastic Dungeness Crab Cakes are fairly simple to make and are bursting with flavor – so savor the taste of fresh Dungeness Crab.  These also are great served as the starter course of your meal.  Crab Cakes are basically easy to prepare, make a wonderful appetizer before dinner, or even a main course for a light summer dinner.
Dungeness crab are found on the western shores of the United States in the Pacific Northwest.  This crab is prized for the particularly delicate, sweet flavor of it's meat.
More of Linda's great Crab Recipes and Appetizer Recipes for more great cooking ideas.

Dungeness Crab Cake Recipe:
Keyword:
Dungeness Crab Cake Recipe
Instructions
Dungeness Crab Cakes Instructions:
In a large bowl, gently combine the crab meat, 1/2 Panko crumbs, mayonnaise, half and half, egg, garlic, onion, capers, orange juice, salt, and pepper with a rubber spatula until mixture just clings together (do not over mix).

Divide crab mixture into eight (8) portions and shape each into a flat, round cake about 1/2 inches thick.

Place the remaining 1/2 Panko crumbs into a shallow pie plate. Working with one cake at a time, lightly coat the outside of the crab cakes with the crumbs. Place onto a baking sheet lined with either parchment or wax paper; cover with plastic wrap and refrigerator at least 3 hours or overnight (the cold will firm up the cakes so that they will not break up when fried).

Prepare Orange Sauce (see recipe below).

In a large nonstick frying pan over medium heat, heat butter until hot but not smoking (add more butter if needed). Gently lay the chilled crab cakes onto bottom of the pan; slowly fry crab cakes approximately 4 minutes per side or until crisp and golden brown, turning once only with a spatula. If the crab cake browns too quickly, reduce heat. The internal temperature should be 150 to 155 degrees F. with an cooking thermometer. Remove from heat.

Place the crab cakes on individual serving plates. Drizzle the crab cakes with the Orange Sauce and serve immediately.

Makes 4 servings or 8 crab cakes.
Orange Sauce Instructions:
In a small bowl, combine sour cream, orange zest, orange juice, sugar, and pepper.

Cover and store in refrigerator until ready to serve. Orange Sauce may be made in advance and stored in the refrigerator until serving time.
Recipe Notes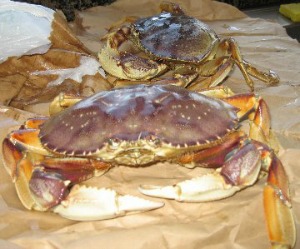 * If possible, always buy freshly-cooked crab meat when making these Dungeness Crab Cakes to enjoy it's superior taste.  If you absolutely can not get fresh crab meat, look for the pasteurized crab usually sold in the refrigerated case of your supermarket or fish store.
** Check out Making Homemade Bread Crumbs.

I get many readers asking what cooking/meat thermometer that I prefer and use in my cooking and baking. I, personally, use the Thermapen Thermometer. Originally designed for professional use, the Super-Fast Thermapen Thermometer is used by chefs all over the world.  I only endorse a few products, on my web site, that I like and use regularly.
You can learn more or buy yours at: Super-Fast Thermapen Thermometer.
Sponsored Content
Comments and Reviews