I wanted to share my family's recipe for making German Herring Salad, known to our family as Herring Salat.  This recipe is from my children's Grandmother, Gertrude Zemp.  Their Grandmother recalls that her mother used to make this salat appetizer every Christmas in Germany.
The main ingredient of this appetizer is marinated pickled herring fish.  The pickled herring is mixed together with tart apples, dill pickes and vinegar.  If you allow the salat to sit covered in the refrigerator overnight the flavors will meld together.  This is why I recommend waiting to serve the next day.  This recipe is easy to prepare, and as the herring is already "pickled," it holds up well in the refrigerator.  I know there are many variations of Herring Salad around the world, but this is our family's version – so good!
Now with my children, we keep the tradition going and make this dish for Christmas Eve every year.   If you didn't grow up eating pickled herring, you make not take to it on your first try.  Do not be afraid as the taste will grow on you with the tart vinegar flavor and slight sweetness from the apples.  It is easy to become addicted to this traditional German recipe.
Herring is also a good luck tradition in Germany, Poland and Scandinavia for New Year's Eve.  Eating herring at midnight will ensure a bountiful year.  The slivery coloring of the herring represents silver coins and we all want a bounty of those.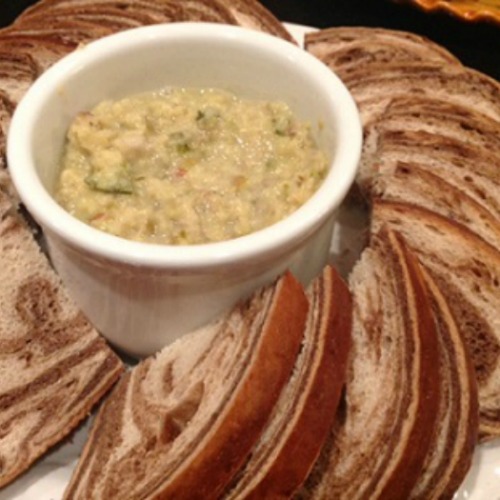 German Herring Salat - Pickled Herring Salad Recipe:
Keyword:
German Herring Salat Recipe, Pickled Herring Salad Recipe
Ingredients
1

(26 to 32-ounce) large jar marinated wine-flavored

herring 

pieces, pickled*

2

large

dill pickles,

chopped

1/3

cup

olive oil,

extra-virgin

1/3

cup

red wine vinegar

1

teaspoon

coarse salt

1

teaspoon

black pepper,

coarsley ground

Rye bread,

sliced
Instructions
Drain the marinated juice from the jar of marinated herring pieces and place in a small bowl; set aside. The juice will be used to make the dressing.

Remove herring from jar and place in the bowl of a food processor. Lightly process for a few seconds until the herring is just coarsely chopped. Remove herring from food processor and place in a large bowl.

To make the dressing, add the olive oil, red wine vinegar, salt, and pepper to the set aside juice; whisk to combine.

Add the prepared dressing to the herring mixture and stir to combine.

Cover and store in the refrigerator until ready to serve. Serve with rye bread.
Recipe Notes
*  Feel free to add or delete the amount of marinated herring used, according to your family's taste.  Pickled herring can be found in most large grocery stores during the Christmas season.
Comments and Reviews