Lemon Sorbet in Lemon Shells is a delightful and refreshing way to cleanse your palate after a meal!  A perfect summertime treat that is kind of like eating homemade lemonade.  Whether you serve this sorbet in scooped into cut lemon halves or in chilled bowls. you will love this both sweet and tart Lemon Sorbet in Lemon Shells.
The word sorbet comes from the Arab word "sharbet", meaning sweet snow, which in turn comes from the verb "sherber", meaning to sip?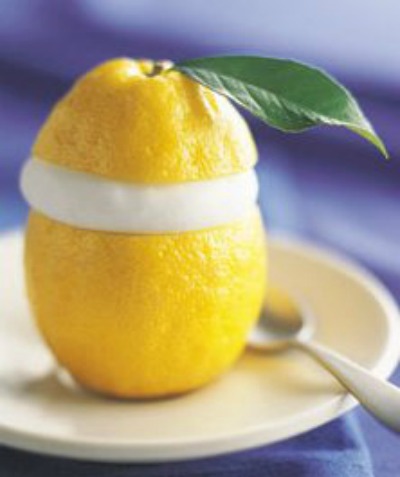 More great Ice Cream, Sorbet, Granita, and Gelato Recipes.
Please check out my Petite Pork Roast dinner menu which includes this refreshing Lemon Sorbet in Lemon Shells.
Lemon Sorbet in Lemon Shells Recipe:
Keyword:
Lemon Sorbet in Lemon Shells Recipe
Ingredients
8

lemons*

1/3

cup

lemon zest

(you will need 3 to 5 additional lemons)*

1

cup

lemon juice,

fresh squeezed and strained (from lemons used for cups)

1 1/2

cups granulated

sugar

1 1/2

cups

water
Instructions
Preparing Lemon Shells:
Wash the lemon skins well and then dry.

Cut off the top 1/3 of the lemon (not the stem end) and reserve for the "cap." Carefully hollow out each lemon by using a grapefruit knife (the angled blade keeps you from puncturing the bottom and you can also cut underneath the center of the fruit) just inside the rind and circling the flesh (being careful not to puncture the lemon).

Remove the lemon juice and flesh; set aside.

Make a slight shallow cut on the bottom of each lemon shells (being careful not to cut through to the inside of the lemon). This will make them sit straight and not fall over when placed on a plate.

Freeze the shells at least one hour or overnight. Tip: Freeze the lemon shells in egg carton.

In your blender, place the lemon juice and flesh. Blend until smooth and them strain through a sieve to extract all the juice.
Preparing Lemon Sorbet:
In a medium saucepan over medium heat, combine sugar and water until sugar dissolves. Add lemon zest. Stir until mixture comes to a boil; boil 2 minute. Add the strained lemon juice, stir well. Remove from heat, cool, and strain. Pour cooled mixture into a shallow container, cover, and freeze overnight.

Ice Cream Maker - Transfer mixture to ice cream maker, process according to manufacturer's instructions.

Freezer Method - Pour into container, cover, and place mixture in the freezer. When it is semi-solid, mash it up with a fork and refreeze again. When frozen, place in a food processor or blender and process until smooth. Cover and refreeze until serving time.

When ready to serve, fill each frozen lemon shell with the prepared lemon sorbet and freeze again. This sorbet can be made ahead and will keep several days in the freezer. The frozen shell will prevent the sorbet from melting too quickly when you serve it.

NOTE: Can be prepared 3 days in advance. Cover and keep frozen.
Recipe Notes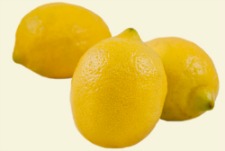 * You will need one lemon per person.  Make sure the end (not the stem end) has a nice shaped "bump" and try to purchase uniform lemons.)  Purchase smooth-skinned lemons that are heavy for their size. The skin should have a fine grain and bright yellow color.
Streaks of green on the skin of the lemon usually indicate more acidity.  Avoid lemons that feel soft or spongy with skin that looks or feels wrinkled, bumpy, rough or hard.  Coarse, thick-skinned and light lemons have less juice.
Source:  Recipe and photo is copyrighted by Cuisine Magazine and is reproduced here with permission.
Comments and Reviews