Our family loves Pork Chile Verde and my daughter thought she would turn it into more of a hearty Slow Cooker Pork Chile Verde stew with potatoes and carrots and cook in the slow cooker.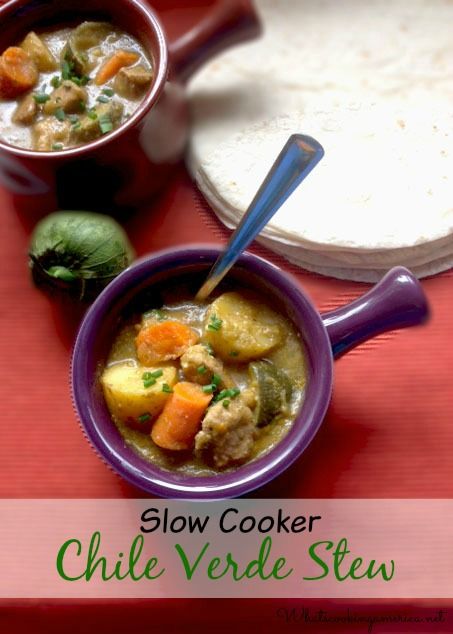 She figured out the right ratio of serrano peppers to add to make the stew family friendly but still have that Southwest flavor.  Serrano peppers eaten raw are very hot, but when they are cooked the spicy heat mellows out. In this recipe, you can add the peppers so your kids will still enjoy the meal and not run out of the room screaming!  Or if you like it hot enough to make you sweat and tear up then definitely add more peppers.  She has seen many recipes for chile verde soups and stews. In these recipes, the cooks mistakenly use the shortcut of canned salsa verde or green enchilada sauce. She begs you not to resort to using canned sauce, even if you may be in a hurry. The flavor is nowhere close to the same as making your own homemade chile verde sauce!
Find more great recipes in our Southwest Recipe Collection.
Slow Cooker Pork Chile Verde Recipe:
Keyword:
Slow Cooker Pork Chile Verde Recipe
Ingredients
8 to 10

tomatillos,

loose peel removed, skin washed, and chopped into large chunks

4 to 5

Serrano chile peppers,

discard stems but keep the seeds, cut in halves*

1

medium-size

tomato

1

tablespoon

olive oil

3

pounds

pork shoulder

or pork loin, cut into 1 1/2-inch chunks

2

teaspoons

salt

1

teaspoon

black pepper,

ground

2

teaspoons

chili powder

1

teaspoon

cumin

1

(32-ounce) container

chicken stock

or broth**

1/4

large

white onion

2 to 4

whole

garlic

cloves (depending on your taste)

1

bunch fresh

cilantro

leaves, stem cut off

3

large

Yukon Gold potatoes,

cut into 1 1/2-inch cubes

2 to 3

large

carrots,

peeled and cut into 1 1/2-inch chunks

1

large

zucchini squash

(or 2 small), cut into 1 1/2-inch chunks

Flour Tortillas

(purchased or homemade)***
Instructions
Safety Warning: When handling hot chile peppers, do not let your skin come into contact with the seeds. It is recommended to wear gloves or generously cover your fingers with shortening or cooking spray. If the chile pepper seeds do come into contact with your skin, the seeds can create a burning sensation - do not rub your eyes!

In a large pot, place the tomatillos, chile peppers, and tomato. Fill the pot with just enough water to cover the vegetables. Bring to a boil over high heat. Let boil until the tomatillos start to turn a light yellow color and the skins roll off the tomatillos and tomato. Remove from heat and drain off the water and discard. Try not to lose all the seeds when draining off the water, as the seeds are part of the flavoring.

While tomatillos and peppers are boiling, in a large skillet over medium heat, add olive oil and heat till warmed. Add pork cubes and sprinkle with salt, black pepper, chili powder, and cumin. Heat pork for about 7 minutes until browned on all sides; remove from heat. Add cooked pork to slow cooker. Pour chicken broth over the pork.

Tomatillo Sauce (Salsa Verde) Preparation: Add the cooked tomatillo/pepper mixture, onion, cilantro leaves, and whole garlic cloves to the bowl of your blender; blend until pureed. Taste and add salt, if necessary. If you want a thinner consistency or need to reduce the spicy heat, some water can be blended in. You now have created your Verde Sauce. The Verde Sauce can be made 1 day ahead.

Pour the prepared Tomatillo Sauce into the slow cooker. Add potatoes, carrots, and zucchini. Stir everything together. Cover with lid and cook on low heat for 8 to 10 hours or high heat for 5 to 6 hours until the potatoes and carrots are tender.

If you are at home while cooking, remove the lid and stir everything together every couple hours to prevent the sauce from sticking to the bottom of the cooking pot.
Recipe Notes

* Serrano Chile Peppers: (suh rah noh) - The serrano chili pepper is a smaller version of the jalapeno, similar in color, but smaller, about 1 to 2 inches long, 1/2 inch wide. They are commonly red, brown, orange, or yellow. Moderate to very hot with an intense bite. Serrano chile peppers have thin walls, and they don't need to be steamed or peeled before using, making it the easiest chile pepper to use for salsas. The serrano is said to be about 5 times hotter than the jalape. Can be found canned, pickled, or packed in oil with vegetables. Often served in Thai or Mexican dishes.
** Check out Chicken Stock - Basic Chicken Stock to learn how easy it is to make your own homemade chicken stock. This quick and easy Homemade Chicken Stock recipe uses a cooked rotisserie chicken to save time and effort. Using a purchased supermarket rotisserie chicken is a much simpler and easier way to make homemade stock. The taste is so much better than those boxed or canned chicken stocks that you can purchase in your local grocery store. You will love this shortcut method of making homemade chicken stock.
Find more recipes on our Slow Cooker recipe index.

Comments and Reviews