No Cook Soup Recipe
Strawberry Mint Soup is not only delicious and refreshing, but the color is lovely.  The strawberries and mint pair perfectly and create a soup that is minty, silky, and sweet.  This Strawberry Mint Soup is perfect on a hot summer evening and would be great served at a dinner party.  For an afternoon tea, you could serve this chilled soup in fancy tea cups.
I love it when strawberry season arrives in Oregon!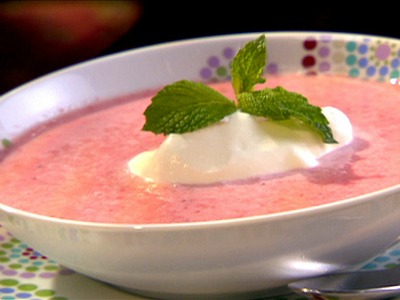 Find out about Strawberry Hints, Tips, and Information and more Strawberry Recipes.
Strawberry Mint Soup Recipe:
Keyword:
Strawberry Mint Soup Recipe
Ingredients
1 1/2

cups

strawberries,

fresh, sliced

3/4

cup

sour cream

3/4

cup

heavy cream

2

tablespoons

orange juice,

freshly squeezed

2

tablespoons

honey

1 1/2

teaspoons

mint

leaves, fresh, finely chopped

Fresh slices of

strawberry

or kiwi and min sprigs (for garnish)
Instructions
In a food processor or blender, place the strawberries, sour cream, heavy cream, orange juice, and honey; whirl until smooth. Stir in mint. Taste for sweetness; if necessary, add more honey.

Refrigerate until well chilled.

To serve, put into cold soup bowls and top with strawberry slices, kiwi fruit slices, or mint sprigs.
Recipe Notes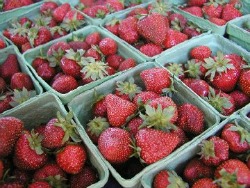 *  Naturally the best strawberries are the ones you pick yourself from your local strawberry fields.  In the stores, always choose locally grown strawberries during the harvesting season (they are sweeter and juicier than those that are bred for shipment).  When purchasing berries from the grocery store, shop with your nose. Always pick the plumpest and most fragrant berries.  They should be firm, bright, and fresh looking with no mold or bruises.
Select berries that are in dry; unstained containers (stained containers may indicate over soft berries that are not freshly picked).  Mold on berries spreads quickly.  Never leave a moldy berry next to a good one.
Source:  Photo from Food Network.com, Robin Miller 2007.
Comments and Reviews