Baked Sweet Onions are so simple to make and so mouth-watering good, plus these onions are low calorie!  This is one of those very simple and easy recipes that after each time I make it, I wonder why I do not do it more often!  Excellent side dish served with your steak dinner.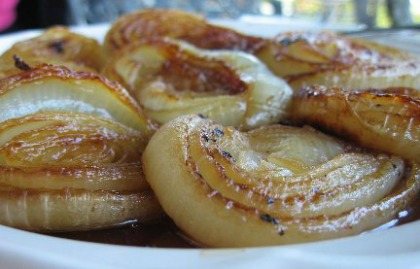 For more great Low Fat Recipes, Low Calorie Recipes, Low Carbohydrate recipes, and Diabetic Recipes, check out my Diet Recipe Index.  Also check out my Nutritional Chart for fat grams, fiber grams, and calories for all your favorite foods.
Baked Sweet Onions Recipe:
Keyword:
Baked Sweet Onions Recipe
Instructions
Preheat oven to 250 degrees F.

Cut off a small portion (approximately 1/4-inch) off the bottom or root end of each onion. This is to steady the onions in the baking dish.

Place whole onions into a baking dish with approximately one inch of water. Bake, uncovered, approximately 2 hours or until onions are soft when you squeeze them.

Remove from oven and place onto a cutting board; pull back brown skins and cut them off at the roots. Transfer onto a serving platter and season each with salt, pepper and 1 teaspoon butter.

For an extra-special taste sensation, drizzle the tops (or use a dropper) of each baked onion serving with balsamic vinegar. So good!
Recipe Notes
*  Some U.S. sweet and mild onion varieties (available in the spring/summer) have a similar sugar content (or sometimes even less sugar) than the storage varieties.  Naturally, we don't always taste that difference due to both water and sulfur content present in a raw onion; however, we can often taste those differences when onions are cooked!  
Look for sweet onions that are light golden-brown in color, with a shiny tissue-thin skin and firm, tight, dry necks.  (Ordinary storage onions are darker and have a thicker skin.)  When cut into, sweet onions should have a creamy white interior.  Avoid onions that have soft spots or surface bruises.
Nutrition Facts
Baked Sweet Onions Recipe:
Amount Per Serving
Calories 98
Calories from Fat 29
% Daily Value*
Fat 3.2g5%
* Percent Daily Values are based on a 2000 calorie diet.
Comments and Reviews