Mushrooms lovers and foodies will delight in this Chanterelle Custard, Hazelnut Arugula Salad. Chanterelle mushrooms which are regarded as a culinary delicacy, really push this starter over the top.
Chanterelle mushrooms can found in the forests in many parts of the world such as Northern Europe, North America, Mexico, Asia and Africa.  They are considered edible mushrooms that have a slightly fruity aroma and a mild peppery taste.  The golden colored variety are the most sought-after and flavorful.  Historical records show that chanterelles have been eaten since the 1500s.  It was not until the 1700s and the influence of French cuisine when chanterelles gained widespread popularity among nobility.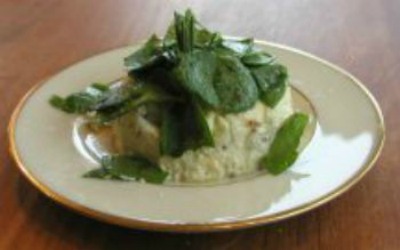 Check out Linda's Appetizer Recipes for more great cooking ideas.
Chanterelle Mushroom Custard and Hazelnut Arugula Salad Recipe:
Keyword:
Chanterelle Mushroom Custard and Hazelnut Arugula Salad Recipe
Ingredients
Chantrelle Mushroom Custard and Hazelnut Arugula Salad:
5 to 6

ounces

Chanterelle mushrooms,

cleaned and sliced*

1

tablespoons

olive oil

1

tablespoons

butter

2

teaspoons fresh

thyme

leaves, chopped

2

teaspoons

shallots,

chopped

1

clove

garlic,

chopped

Salt

and pepper

4

eggs,

room temperature

1 1/2

cups

cream

1/2

cup

milk

Arugula

leaves, stemmed and washed
Instructions
Chanterelle Mushroom Custard and Hazelnut Arugula Salad Instructions:
Preheat oven to 325 degrees F. Lightly butter six (6-ounce) custard cups and set them into a large baking dish.

In a large frying pan over medium heat, heat the olive oil and butter. Add sliced Chanterelle mushrooms, thyme, shallots, garlic, salt, and pepper; saute 5 to 7 minutes. Remove from heat and let cool. When cool, chop the mushrooms coarsely.

In a large bowl, beat eggs slightly. Add cream and milk; beat until well mixed. Add the chopped mushrooms and briefly beat again to incorporate. Pour egg/mushroom mixture into prepared custard cups.

Bring the water for the water bath to a light simmer on top of the stove; carefully pour hot water into the baking pan to come half-way cup the sides of the custard cups. The water should come up to the level of the custard inside the cups. You must protect your custard from the heat. Carefully pour hot water into the baking pan to come halfway cup the sides of the custard cups.

Bake 25 to 30 minutes or until set around the edges but still loose in the center. The cooking time will depend largely on the size of the custard cup you are using, but begin checking at 20 minutes and check back regularly. When the center of the custard is just set, it will jiggle a little when shaken, that is when you can remove it from the oven. Remove from oven and immediately remove cups from water bath; cool on wire rack until room temperature. Cover with plastic wrap, and refrigerate at least 2 hours or up to 2 days.

Prepare Hazelnut Vinaigrette (see recipe below).

Dress the arugula leaves with the prepared Hazelnut Vinaigrette.

Unmold the mushroom timbales by running a small knife around the outside rim. Then, turn upside down on individual serving plates, giving the mold a sturdy shake.

Garnish with the dressed arugula.

Makes 6 servings (depending on size of custard cups).
Hazelnut Vinaigrette Instructions:
In a jar or bowl, combine lemon juice, hazelnut oil, salt, and pepper.

Store, covered, in the refrigerator. Serve at room temperature.

Yields 1/4 cup vinaigrette.
Recipe Notes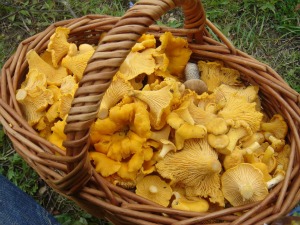 *  Chanterelle Mushrooms:  These delightful mushrooms are a fleshy wild mushroom that is also know as "golden Chanterelle" and "egg mushroom."  They range in color from orange to gold.  The Chanterelle Mushroom can be found and enjoyed all over the world.  To learn more about Chanterelle Mushrooms, check out:  Mushroom-Collecting, by David L. Spahr.
*  To prepare the mushrooms:  Use a clean vegetable or pastry brush and a kitchen towel; brush and wipe the mushrooms clean.  Be especially careful to brush away dirt in the gills.  Any deeply embedded grit can be cut away with a paring knife.  If the mushrooms are large, cut them by halving, quartering, or thickly slicing lengthwise.  If mushroom buttons are small, leave them whole.
Source:  Chanterelle Mushrooms photo from the Imperial River Company of Maupin, Oregon.
Comments and Reviews