Corn Recipes – How To Cook Corn – Grits Recipes
Learn how to cook perfect corn every time find your next favorite recipe from our large Corn Recipe Collection. Pick from a wide variety of delicious corn dishes.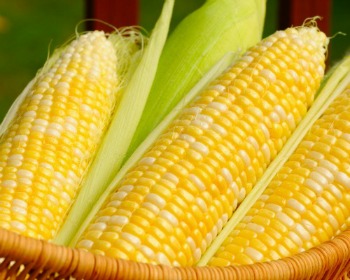 How To Cook Perfect Corn:
Learn about Corn Hints, Tips, and Information
How To Boil Corn On The Cob
Boiling is the quickest, easiest, and tastiest way to prepare fresh corn. Too many people do not know how to correctly boil fresh corn on the cob.  It is a very easy technique and produces the most delicious corn on the cob.  Corn should be cooked quickly and not left to sit in the boiling water very long.  Fresh corn is at its best when it is very milky inside.  If overcooked, it will dry out quickly. Please, never over cook your corn!
How To Grill Corn On The Cob
Grilled Corn on the Cob is a popular menu item for barbecues and clambakes, and it's easy to do.  Grilled corn on the cob is not only tasty, but grilling your corn never fails to impress your guests.  Grilled Corn is especially delicious when you add herbs and spices to the ear of corn before grilling it.  The herbs and spices liven up the flavors and add an interesting spin on basic roasted corn.  Plus it's easy to do!
Corn On the Cob Recipes:
Baked or Grilled Corn On The Cob
How about grilling your fresh corn on the cob – or even baking it?
Grilled Corn on the Cob with Lime and Chile
Another great recipe on grilling your fresh corn on the cob.
Lemon-Garlic Glazed Corn on the Cob
Think it doesn't get any better than eating fresh-cooked corn on the cob with butter?  How about actually cooking the corn in the butter?
Corn Recipes – Recipes Using Corn:
Avocado-Corn Salsa
Delicious and very aromatic. can be made as mild or spicy as your like.
Baked Herb Polenta Sticks
Wait until you try these delicious polenta sticks made with yellow cornmeal!
Cheesy Creamed Poblano Chile with Corn (Crema de Chile Poblano con Queso Blanco)
Poblano chiles (freshly roasted and peeled), corn from the cob, and Monterrey Jack cheese all together in a sauce that is so versatile it can go from a salsa to a side dish, and then even be converted to a soup or a main dish.  If there is anything I like better than a recipe that is easy and taste great, it is one that is so versatile that it makes me start thinking of how many other recipes can come from just that one.  This is one of those recipes!
Chicken, Zucchini and Fresh Corn Burgers with Green Onion, and Cumin
This delicious recipe is summer in a burger, bursting with the peak of the season's bounty from the garden.  It sure was good, even my best critic loved it.  Very fresh and pretty.
Chilled Corn Chowder
This recipe was adapted from the cookbook Dairy Hollow House Soup and Bread by Crescent Dragonwagon.  According to the author, "There is no earthly reason why something so simple should be so good.  Much depends on the sweetness of the corn, so make sure it is fresh and good.  Restorative, refreshing and easy."
Chipotle Corn Salad
Very pretty dish with fresh, bright flavors.  Using sweet local corn and garden fresh tomatoes make this a great summer lunch or side dish with dinner.
Corn Radish Salad with Chile-Jalapeno Dressing
Most people don't realize that fresh raw corn is delicious!  Add the sliced radishes and the Chile-Jalapeno Dressing and you have a salad "fit for a king."  Give this salad a try and see for yourself!
Corn Souffle with Creamed Onion Sauce
Fresh Corn Off The Cob Soup
If you love corn, you will love this recipe. Fresh, peak-of-season corn is essential.  Everyone that I've served this wonderful soup to has loved it.  It is truly delicious, especially chilled.
Fresh Corn Salad
What could be more perfect than a summer salad with fresh-picked corn?  The fresh corn salad is a great accompaniment to any summer dish.
Fresh Tomato Corn Salsa
End of the season sweet corn, tomatoes, jalapeno peppers, and a southwest-style dressing make this a colorful and fresh addition to your meal.
Grilled Corn, Tomato, and Avocado Salad
If you source your corn, tomatoes, and sweet basil from your garden or local Farmer's Market, you will love the combination of fresh flavors this salad offers you.
Iowa Corn au Gratin
A wonderful way to serve corn. Try it – you' like it!
Risotto with Corn, Tomatoes, and Basil
This wonderful risotto dish combines three of my favorite summer ingredients – fresh corn. vine-ripened tomatoes, and basil.
Soft Creamy Polenta
This double-boiler technique of cooking polenta produces a flavorful polenta without a great deal of hands-on attention.  Use it when you will be in the kitchen attending to other tasks.  Especially great for dinner parties.  This traditional Italian staple makes a fantastic warming side dish for meat, chicken, fish or vegetables.
Southern-Style Creamed Corn
Creamed corn finds its origins in the American Midwest before becoming popular in the rest of the country.  Southern-style creamed corn incorporates bacon as a key ingredient to flavor the corn and uses a heavier cream.  This recipe is creamy corn goodness!  My daughter made this recipe for her family.  She said her family could have made a whole meal just from the corn alone!  It was plate licking good!  This is a great side dish to enjoy when fresh corn is in season and also works great served at a holiday meal.
Southwest Corn Custard with Roasted Peppers
This recipe is meant for a side dish or even a main dish if you want to go meatless, but it is almost sweet enough to be served as a dessert!
Southwest Cowboy Caviar – Texas Caviar
Is Cowboy Caviar a dip or a side salad? It is a flavor bursting blend of vegetables and beans that makes a nutritious and filling salad or a great addition to a party as a side dish or appetizer chip dip (a lot like salsa).  What is also great about this dish, is that you can adjust the ingredients to your family's taste.  Either way you served this delicious Southwest Cowboy Caviar, it is delicious and sure to please your family or guests.  Makes a great vegetarian and vegan dish, as it is gluten-free, nut-free, and dairy free.
Summer Salad with Fresh Corn
While my daughter was on her beach vacation, she was introduced to fresh raw corn in a salad.  She loved the wonderful sweetness and crunch of the raw corn that really complimented the salad greens.  When she came home she had to recreate this salad and also used some salad greens from her garden.  Try throwing some fresh raw corn into the mix of your next salad!
Sweet Corn, Mozzarella, and Tomato Salad
What could be more perfect than a summer salad with fresh-picked corn and vine-ripened tomatoes?  My husband, Don, and I think that this is the ultimate summer eating pleasure!  Quantities are very flexible in this recipe, so adjust to taste.
Zucchini Corn Clam Chowder
Classic clam chowder remade with fresh summer corn and zucchini.
Grits Recipes:
Learn about the history of Grits – Shrimp and Grits
Creamy Grits and Shrimp
In the Low Country of South Carolina and particularly Charleston, shrimp and grits has been considered a basic breakfast for coastal fishermen and families for decades during the shrimp season (May through December).  Simply called "breakfast shrimp," the dish consisted of a pot of grits with shrimp cooked in a little bacon grease or butter.
Grits and Greens
Southerners have always eaten a lot of corn-fresh corn in season, dried corn in the winter, and cornmeal all year around in the form of grits.  Grits benefit from cooking with milk or cream.  But grits have traditionally been food for the poor, and of course the poor would use water instead of milk.  This dish marries two Southern favorites in an unbelievable combination of color and flavor.
Parmigiano Reggiano Grits Souffle
Southerners have a tendency to call anything baked with beaten egg whites a souffle.  Properly beaten egg whites are the key to the rise of this dish.  While the dish is in the oven, the air trapped inside the egg whites expands, causing the dish to rise.

Comments and Reviews