Sweet Corn, Mozzarella and Tomato Salad recipe is the ultimate summer eating pleasure!  
What could be more perfect than a summer salad with fresh-picked corn and vine-ripened tomatoes?  Quantities are very flexible in this recipe, so adjust to taste.  My husband  and I love this Sweet Corn, Mozzarella and Tomato Salad recipe.
Ingredients that come from your own family garden or your local Farmer's Market will produce the most maximum flavor and quality in this salad.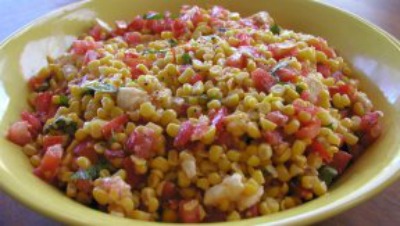 Learn about Corn Hints, Tips, and Information and here for more of Linda's great Corn Recipes and Tomato Recipes.
Sweet Corn, Mozzarella and Tomato Salad Recipe:
Keyword:
Sweet Corn, Mozzarella and Tomato Salad Recipe
Servings
:
10
to 12 servings
Ingredients
8

ounces

mozzarella cheese,

fresh (small balls called bocconcini work best)*

1/3

cup

olive oil,

extra-virgin (or basil-flavored)

1/2

teaspoon

coarse salt
Black pepper,

freshly-ground

Red pepper flakes,

crushed

10 to 12

ears of sweet

corn,

husked and silk removed**

6 to 8

large vine-ripened

tomatoes,

seeded and cut into small pieces

25 to 30

fresh

basil

leaves, thinly sliced
Instructions
Cut the mozzarella cheese balls into small pieces and marinate in the basil oil, tossing with salt, black pepper, and red pepper. If using a large ball of cheese, cut this into slices. Cover and refrigerate at least six hours, preferably overnight. NOTE: Before assembling the salad, remove the mozzarella from the refrigerator and let come to room temperature before using in the salad.

Scrape the corn kernels from the ears of corn by using a sharp kitchen knife and a large cutting board. Cut off the stem end to give a flat base. Hold the ear, tip end up, then cut downward, removing a few rows at a time.

In a large pot, partially filled with water, bring water to a rolling boil. Add the corn kernels to the boiling water. Bring water back up to a boil; immediately remove from heat and drain corn in a colander in your sink. Run cold water over the corn in the colander to stop the cooking process; drain the corn thoroughly.

In a large bowl, gently combine corn kernels, tomatoes, mozzarella with marinade, and basil. Adjust seasonings to taste. Refrigerate the salad until approximately 1/2 hour before serving.

Makes approximately 10 to 12 servings.
Recipe Notes
*  Usually fresh mozzarella cheese can be found at your local store in a container of water (which is actually whey from making the cheese).  Keep fresh mozzarella cheese in its liquid bath and refrigerate until ready to eat and eat it within 2 to 3 days.  Store fresh mozzarella cheese in the refrigerator.  Remove from the refrigerator at least 1 hour before you plan to serve it.  Freezing is not recommended.  If a recipe specifies Fresh Mozzarella Cheese, please only use Fresh Mozzarella Cheese - You will be sorry if you don't!
**  Fully ripe sweet corn has bright green, moist husks.  The silk should be stiff, dark and moist.  You should be able to feel individual kernels by pressing gently against the husk.  As soon as corn is picked, its sugar begins is gradual conversion to starch, which reduces the corn's natural sweetness.  Corn will lose 25% or more of its sugar within 25 hours after harvesting it.  Fresh corn, if possible, should be cooked and served the day it is picked or purchased.
Comments and Reviews