Kale Recipes – Recipes Using Kale
Enjoy this collection of favorite kale recipes.  When you mention kale, the majority responds with raised eyebrows and mumble "Huh"?  "What's that"?  Kale is an old, hardly noticed and powerful green food.  Kale is a leafy green vegetable with a mild earthy flavor.  Did you know that kale is one of the healthiest vegetables on the planet?  It is considered a "superstar" vegetable.  Read about the health benefits of Kale.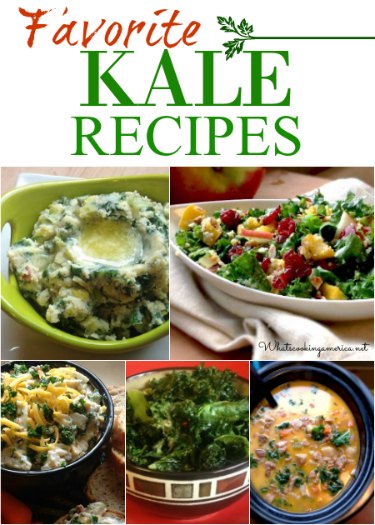 Baked Kale Chips – Oven Roasted Kale Chips
Not a fan of kale?  Well, these crispy baked kale chips are sure to convert you.  In fact, they will probably become you new favorite snack!  They are a healthy alternate to potato chips and are perfect for snacking.  I know that there are hundreds of baked kale chip recipes on the internet, but I hope my recipe will help you also make perfect kale chips.  What more could you ask for?
Braised Red Russian Kale with Tomatoes and Onions
I am growing Russian Red Kale in my garden.  Their stems are a beautiful purple, leaves are flat, toothed, and dark green with purple veins.  The plants mature at medium-tall and the leaves are tender compared to other kales.  I like that it does not take a long cooking time to become tender.  The very young, short leaves can be used raw in salads.
Cheesy Kale and Bacon Dip
Move over spinach dip – Cheesy Kale and Bacon Dip is the new party dip in town!  The cheese and bacon flavors in this dip are sure to win over your party guests and this would especially please a sports watching crowd.  Your guests will not even realize that they are also enjoying healthy super-food kale that is mixed in.  I introduced this dip at a couple gatherings to rave reviews and several recipe requests.
Grits and Greens
Southerners have always eaten a lot of corn-fresh corn in season, dried corn in the winter, and cornmeal all year around in the form of grits.  Grits benefit from cooking with milk or cream.  But grits have traditionally been food for the poor, and of course the poor would use water instead of milk.  This dish marries two Southern favorites in an unbelievable combination of color and flavor.
Herb-Crusted Halibut with Toasted Kale Chips
This is a quick and easy halibut recipe that also includes delicious roasted kale leaves.  Give it a try – you won't be disappointed!
Irish Colcannon Potatoes – Mashed Potato with Kale and Bacon
Colcannon is true Irish soul food.  The dish consists of mashing together buttery mashed potatoes with cooked kale or cabbage and leeks for flavoring.  For this recipe, I used kale sauteed in bacon and mixed in the bacon crumbles (because I love bacon and bacon gives everything a boost!).  I love the color of the dark green kale mixed with the mashed potatoes as well as the flavor of bacon and leeks.
Kale Caesar Salad – Low-Fat Recipe
When I first was introduced to Kale Caesar Salad, I was very surprised at how at how delicious it was.  This recipe is my version of this salad using my fantastic low-fat Caesar Salad Dressing.
Kale Harvest Salad with Orange Dijon Vinaigrette
A perfect combination of autumn fruits and vegetables.  Featuring kale as the star ingredient in this salad, along with roasted squash, dried cranberries, crisp apples, crunchy nuts, and seeds to create a bowlful of goodness.
Lemony Braised Lacinato Kale
This delicious kale recipe and photos were shared with my by Karen Calanchini, Food Stylist and Photographer, of Redding, CA.  Karen likes to serve this dish with her Beef Braised In Barolo Wine and Risotto alla Milanese.
Smoked Turkey, Bean and Kale Soup
Another great kale recipe by Karen Calanchini, Food Stylist and Photographer, of Redding, CA.
Super-Food Kale Chopped Salad
This delicious and healthy kale chopped salad recipe is a great way to throw some super food veggies together and enjoy a satisfying crunchy salad.  This has become one of my go-to salads to make as a large batch and enjoy my with dinner for a couple meals.  Depending on your preferred toppings or dressings, this salad can be served like a sweet coleslaw or as a savory salad.  As a little tip – if you have any family members that are not fond of Brussels sprouts, this is a great way to sneak them in!
Wild Rice and Winter Vegetable Soup
This soup was created to use up the remainder of the white meat from my Tuscan Lemon Chicken recipe.  It is not only healthy and hearty, but surprisingly delicious and just perfect for our rainy nights.
Zuppa Toscana Soup
Zuppa Toscana is a traditional Italian Tuscan soup that originated in Tuscany.  Both of my daughters love to go to the Olive Garden Restaurant to enjoy the all you can eat soup, salad, and bread menu items.  Their favorite soups to order are this Zuppa Toscana and the Pasta e Fagioli Soup.  The Zuppa Toscana is sausage, bacon, and potato soup with greens.  It is very tasty and comforting on a chilly day.  My daughter slightly adapted the below recipe from several copy cat versions of the Olive Garden's famous Zuppa Toscana Soup and made the soup to her taste.  This is a very simple and easy-to-make version that is also delicious.  Her whole family enjoyed this soup as it is very simple and satisfying.  They proclaimed that this recipe very closely matches what the Olive Garden restaurant serves.
Comments and Reviews