Mom's Country-Green Beans Recipe is so delicious!  Of course, everything is better with bacon – and this green bean recipe is one of those recipes!
My mother used to prepare a similar green bean recipe, but she always cooked the green beans "to death."  I just updated her version to this very delicious and healthy dish that still includes the bacon and onions.  My husband loves Mom's Country-Style Green Beans and wants me to make it every time we have fresh green beans.  He says it reminds him of the green beans his mother used to make.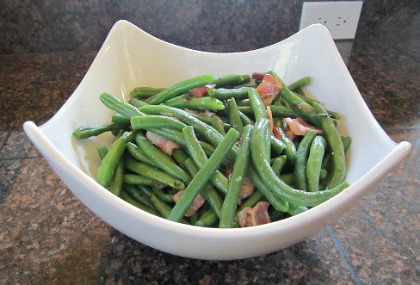 More of Linda's great Bean Recipes, and learn about Green Bean Hints, Tips, and Information.
Mom's Country-Style Green Beans Recipe:
Keyword:
Mom's Country-Style Green Beans Recipe
Servings
:
6
to 8 servings
Ingredients
1 1/2 to 2

pounds

green beans,

fresh, ends trimmed*

10

bacon

slices, diced

1/2 to 1

cup

onion,

chopped

Coarse salt

or sea salt and coarsely-ground black pepper, to taste
Instructions
Wash green beans thoroughly and drain. Break off the end (the top and tail) as you wash them. Leave green beans whole or cut into 1-inch pieces (your choice).

In a large saucepan over medium-high heat, bring 3 quarts of water to a boil. Add green beans and cook, uncovered, approximately 8 to 12 minutes or until the green beans are crisp-tender and still have that vibrant green color (taste one to see if it is cook properly; the beans should still be very crunchy - Do Not Overcook). Remove from heat, drain off the liquid, and rinse the beans under cold water to stop the cooking process. Set aside.

In a frying pan over medium heat, cook the bacon and onion. I like to fry the onions along with the bacon as this gives the onions a caramelized taste. When done, the bacon should be crisps and the onion translucent or soft. Do Not Drain Off the Bacon Grease!

Turn the heat to low and stir in the cooked green beans, salt, and pepper. Stir and heat only until the beans are warm.


Remove from heat and serve.
Recipe Notes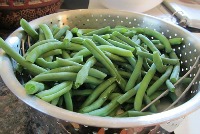 * Not all green beans are alike. The longer the beans are on the vine, the tougher they get.  Either pick or purchase fresh, young beans - look for beans that easily snap in half when you bend them.
Green beans are available year round, with a peak season of May to October.  Green beans are also called string beans and snap beans.  They were also once called string beans. Today's green beans have no strings
---

More Delicious Green Bean Recipes:
Green Bean Casserole – Green Bean Supreme
This green bean casserole is considered the ultimate comfort food and one of the most popular side dishes served on Thanksgiving in America.  Most holiday meals (especially Thanksgiving and Christmas) wouldn't be complete without this green bean dish.
Forget the Diet Green Beans
There are certain recipes where ingredients like bacon fat just cannot be substituted.  This is one of those recipes!
Green Beans Provencal
This tasty veggie combination features trademark ingredients of Province, France.  Can be served as either a salad or a side dish with your meal.
Green Beans with Basil and Cherry Tomatoes
This is a colorful and full–flavored side dish.  The combinations of purple and green beans are interesting.  Take note, however that the purple beans turn green after cooking.
Comments and Reviews