Pickled Whole Beets recipe is from my mother, Dorothy Hagerman.  My mother used to make these pickled beets every year when fresh beets were in the garden.  Their tangy flavor is a great complement to foods and are a favorite of my husband.  You will be totally amazed at how much better homemade Pickled Whole Beets taste as opposed to those you buy in your local grocery store.  Give this recipe a try and taste the difference!
Many beets are sold in bunches with the tops still attached, while others are sold with the tops removed. Look for beets that are firm, round, with a slender tap root (the large main root), a rich, color, and smooth over most of the surface. If beets are bunched, you can judge their freshness fairly accurately by the condition of the tops. Badly wilted or decayed tops indicate a lack of freshness, but the roots may be satisfactory if they are firm.  Avoid elongated beets with round, scaly areas around the top surface – these will be tough.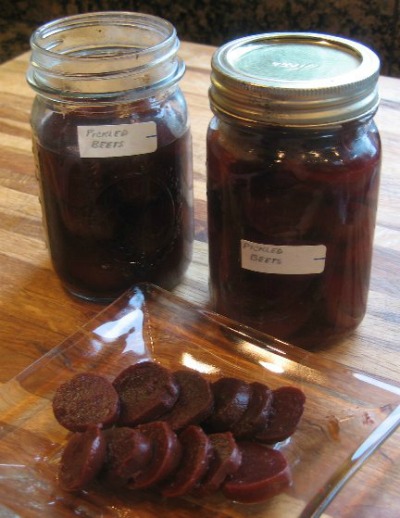 More delicious Beet Recipes.  Also check out this delicious recipe for Pickled Beets and Eggs.
Pickled Whole Beets Recipe:
Keyword:
Pickled Whole Beets Recipe
Instructions
To cook fresh beets:

Use tender, freshly picked beets. Wash, rinse and drain until all traces of garden soil are removed. Use a small vegetable brush if needed. Cut off leaves and stems, leaving about 1 inch of the root end.

Please do not throw away those fresh beet greens when cooking fresh beets. Cook the beet greens and enjoy a delicious and nutritious dish just like your grandparents grew up with. Learn How To Cook Fresh Beet Greens.

Place beets in a large heavy pan and cover with water. Bring just to a boil; reduce heat to medium, cover and cook until fork tender, approximately 25 to 30 minutes. Remove from heat and drain.

Let beets cool until you can safely handle them. Once cooled, you can peel them; the skin of a cooked beet will slip right off. However, it's wise to use a paper towel or wear gloves to keep the beet juice from staining your hands. Then either leave whole or cut the beets in slices.

To make pickling brine:

In a large saucepan over medium-high heat, add apple cider vinegar, water, sugar, whole allspice, whole cloves, and cinnamon; bring to a boil, stirring until sugar melts. Reduce heat and let the pickling brine simmer approximately 15 minutes.

Remove from heat and strain spices out of the liquid (optional). NOTE: Some people like to keep the spices in the liquid.

Canning the beets:

Have clean pint-sized sterilized canning jars ready to use. Prepare two-piece lids and rings according to instructions on lid box.

Pack peeled and trimmed trimmed beets into the hot canning jars, leaving 1/2-inch head space. Carefully pour hot pickling brine into each jar, covering beets, and allowing 1/4-inch head space. Run a thin spatula through jars to remove air bubbles. Wipe jar rims with a damp paper towel. Add caps and bands.

Place filled jars on a rack in a water bath canner. The tops of the jars should be covered with 1-inch of water.

Process for 30 minutes in boiling water canner. Begin timing as soon as the water begins to boil.

Store jars in a cool, dark place and let set for 6 to 8 weeks before opening. They will just get better as they age, so try to be patient. Consume within 8 months.
Recipe Notes
*  Small beets can be pickled whole.  Larger beets can be sliced in 1/4-inch slices or diced.  If desired, use a mixture of red and golden beets.
Comments and Reviews