Boiled Parsley Potatoes are a wonderful potato dish that can either be served at a fancy meal or enjoy during a family dinner.  The combination of melted butter, garlic, and fresh parsley mixed with the boiled potatoes makes them hard to stop eating!  You will get tons of compliments when you serve the Boiled Parsley Potato to your family and friends.
These easy to make and very delicious Boiled Parsley Potatoes are great served with Corned Beef and Cabbage.  Give it a try!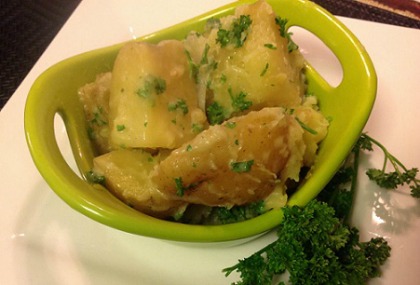 Learn about Potato Hints, Tips, and Information, Sweet Potato Tips, History of Potatoes.
Boiled Parsley Potato Recipe:
Keyword:
Boiled Parsley Potato Recipe
Servings
:
6
to 8 servings
Instructions
Scrub the potatoes with a clean produce brush to remove any dirt and then rinse.

In large pot, over medium high-heat, add potatoes and just enough cold water until potatoes are covered. Add 1/2 to 1 teaspoon salt to the water.

Bring water just to a boil. Reduce heat to medium low and let simmer 10 to 12 minutes or until potatoes are tender. If potatoes can be pierced with fork and forks easily slides out, potatoes are done.

Remove from heat and drain the potatoes in a colander. Transfer the drained hot potatoes to a large serving bowl; add the butter, parsley, and garlic; toss well to coat all the potatoes.

Add additional salt to taste and serve as a side dish with your meal.
Recipe Notes
* New potatoes are simply smaller versions of their full-grown counterparts.  They are fresh from a garden and have never been placed in storage.  Available in both red and white, they taste best when boiled or steamed. The best way to tell a new potato is to rub the skin with your thumb.  The skin should be delicate and easy to scrape off.
Comments and Reviews