These tender roasted radishes are a fine accompaniment for grilled steak or roast chicken.  Once roasted, radishes become sweet and tender and take on a more mellow taste.  These radishes are easy-to-make and so good!   I really like radishes – all kinds of radishes – I hope you also will!
Learn how easy it is to make roasted radishes.  Check out your local Farmers' Market for different varieties of radishes to purchase.  Purchase radishes that are smooth, brightly colored, and with tops that are green and fresh looking.  Avoid radishes that are soft, dull-colored, have white or brown scars, or black spots. If the radish tops are yellow, limp or slimy, the radishes are old or have not been refrigerated properly.
More of Linda's delicious Radish Recipes.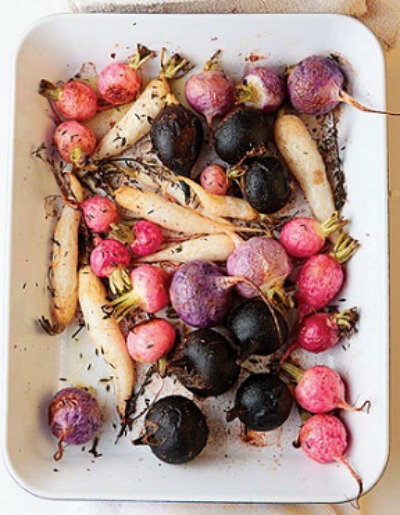 Roasted Radishes - How To Roast Radishes:
Keyword:
How To Roaste Radishes, Raosted Radishes Recipe
Servings
:
2
to 4 servings
Instructions
Preheat oven to 425 degrees F.

Trim off radish greens; reserve for another use.

Wash radishes, pat dry, and transfer to a large bowl with olive oil and thyme. Toss to combine; season with salt and pepper.

Place prepared radishes into a shallow baking dish and cook, turning occasionally, until golden brown and a small knife slides easily into radishes, approximately 40 to 50 minutes.
Sources:  This recipe and photo are from Saveur Magazine, Issue 126.  Photo by Andre Baranowski.
Comments and Reviews