Shiitake Pumpkin Ravioli is surprisingly quick and easy to make when you start with prepared pasta dough or wonton wrappers instead of homemade pasta. Of course you can always make homemade pasta, but sometimes you just want to make a quick meal.
You can find flavorful shiitake year-round in your local grocery stores, call around to find a store with a well stocked produce section they should have fresh, and if not, likely dried shiitake mushrooms in stock. Another great mushroom to try would be Chanterelles. What a great recipe to use if you live in area where Chanterelles grow in the wild and you like to forage for your own.
Shiitake Pumpkin Ravioli are a great make-ahead meal. After purchasing the mushrooms at the store get the family together and enjoy an afternoon making up a large batch for dinner and freeze the rest for later use. They cook up quick, are great for lunch or a last-minute dinner and bonus, they take you back to fall with the wonderful flavor of pumpkin.
When making this recipe, be sure to use canned pumpkin as it makes a much firmer filling than fresh pumpkin. Canned pumpkin also makes the meal prep go much faster. I know you and your family will love this unique ravioli that has a slightly Asian taste.
Learn about Squash Hints, Tips, and Information.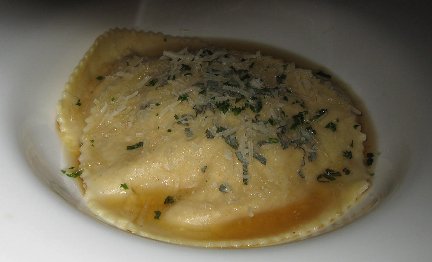 Shiitake Pumpkin Ravioli Recipe:
Keyword:
Shiitake Pumpkin Ravioli
Servings
:
4
to 6 servings
Ingredients
Shitake Pumpkin Ravioli:
3

tablespoons

butter

1

tablespoons

olive oil,

extra-virgin

16

shiitake mushrooms,

finely diced

2

shallots,

finely chopped

2

cloves

garlic,

minced

1

teaspoon

tamari soy sauce

1

teaspoon

sage

leaves, fresh, minced

1 1/2

cups

canned pumpkin puree

or very dry buttercup squash puree

3/4

cup

parmesan cheese,

freshly-grated, plus additional cheese (for garnish)

1/2

cup

bread crumbs,

dried

Salt

and freshly-ground pepper to taste

2

egg whites,

divided

2

(48 count) packages

wonton wrappers*

Chicken stock

or water**
Sage Butter:
8

tablespoons

butter

16

fresh

sage

leaves, julienned
Instructions
Shiitake Pumpkin Ravioli Instructions:
In large skillet, melt butter and olive oil.  Add mushrooms, shallots, and garlic; saute for approximately 10 minutes or until tender.  Stir in the tamari and sage; raise heat to high and cook, stirring constantly, 3 to 5 minutes or until mushrooms start to darken.  Remove from heat and transfer to a large bowl and let cool slightly.

Stir in pumpkin puree, parmesan cheese, and bread crumbs. Season with salt and pepper. Blend in one (1) egg white.

Unwrap wonton wrappers and keep covered with a moist cloth.

Fill wontons one at a time. Lay one wonton wrapper in front of you so it forms a diamond shape. Place about 1 teaspoon pumpkin filling and place a little off-center on the wrapper.



Using your finger, moisten the lower two edges of the wrapper with water or some of the remaining egg white. Fold the wrapper in half diagonally so that it completely encases the filling and forms a triangle. Using your finger, work out any air between the wrapper and the filling

Press your finger on top of the wrapper edges to seal the two pieces together. Bring the top two (2) side corners of the triangle down and gently pull them together and press firmly.



Using your thumb, press the corners of the wonton wrapper together to seal.

Place the completed wontons on parchment paper-lined baking sheets. Repeat procedure with the remaining filling and wonton wrappers until completed.

Wrap the prepared wontons in plastic wrap and refrigerate for at least 1 hour before cooking (overnight is okay).



Bring a large pot filled with water or chicken stock to a boil. Add salt to taste and return to boil. Gently lower the ravioli into the pot and cook until just al dente, approximately 3 to 4 minutes (they are done when they float to the surface). Note: I lowered the cooking temp to less than boiling. It took a little longer to cook but the risk of them breaking apart is reduced. Remove with slotted spoon and drain well.



Prepare Sage Butter. Drizzle the sage butter over the ravioli. Serve with additional parmesan cheese and black pepper.
Sage Butter Instructions:
Melt butter in small saucepan; add the sage and cook for 2 to 3 minutes to infuse the butter.
Recipe Notes
* Available in the refrigerated or frozen foods sections of Asian specialty grocers or better supermarkets.
** Learn how easy it is to make homemade Chicken Stock – Basic Chicken Stock.
Source: I have adapted this recipe from the cookbook, Squash – A Country Garden Cookbook by Regina Schrambling.
Comments and Reviews