Slow Roasted Tomatoes – How To Oven-Roast Tomatoes
If you have never tried slow roasted tomatoes, now is your perfect opportunity!  This preparation is a welcome relief from canning all those tomatoes or using sun-dried tomatoes.  They are easy to make and easy to freeze.  Slow roasting caramelizes and intensifies the flavor of the tomatoes.  You can eat these "as-is" from the oven.  They taste like candy and are absolutely fantastic!  These are great served on crusty bread with a little olive oil or as a side dish.  Also perfect for tossing into pasta or salads.
This awesome tomato recipe was shared with my by Karen Calanchini, Food Stylist and Photographer, of Redding, CA.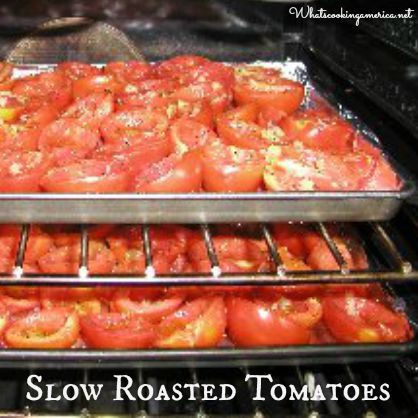 Check out Linda's Tomato Recipes.  Also check here to learn All About Tomatoes (history, how to purchase, and how to use).
Slow Roasted Tomatoes Recipe:
Keyword:
Slow Roasted Tomatoes Recipe
Ingredients
Roasted Tomatoes in Olive Oil:
Instructions
Slow-Roasted Tomatoes Instructions:
Preheat oven to 200 degrees F. Line a large rimmed baking sheet with aluminum foil or parchment paper (be sure to line your baking sheet because it catches the juices and helps with cleanup).

Wash and dry the tomatoes; cut out the stem core and discard. Slice the tomatoes in half lengthwise. Scoop out and discard the seeds, leaving as much pulp as possible. If you are using large heirlooms, cut them into quarters or even eighths.

Place tomatoes, cut sides up, on prepared baking pan. They can be placed closely together since they shrink considerably during baking.

Combine garlic and olive oil; spoon over tomatoes. Season with salt and pepper. You could also add some of your favorite herbs.

Bake 6 to 8 hour or until tomatoes are reduced in size but will retain their shape. They should have shrunk to about half their original size but still retain their moistness. The time the tomatoes take to cook will vary because their size and moisture content vary. By the end, they are almost caramelized and crispy on the edges. Remove from oven and let cool.

Roasted tomatoes will keep in an airtight container, chilled 2 to 3 weeks or up to 8 months in the freezer. Bring to room temperature before using. After eating the tomatoes, you can use the olive oil for salad dressing or sautng.

Optional: Some people like to remove the skins after roasting. I do not do this, but if you want to remove the skins, first let the tomatoes cool. Using your hand, slip off and discard skins.

(1) Sprinkle with sugar, fresh thyme, and salt. Cook according to recipe above.

(2) Combine minced fresh herbs of your choice (such as basil, oregano, rosemary, and/or thyme); sprinkle over tomatoes. Cook according to recipe above.
Roasted Tomatoes in Olive Oil Instructions:
Allow the Slow-Roasted Tomatoes to cool.

Clean and sterilize a 1-pint jar; set aside and let cool.

Layer the tomatoes in a jar with fresh basil leaves and some sprigs of thyme. Pour olive oil in the jar until the tomatoes are covered by at least an inch or oil (the oil will seal the tomatoes for longer lasting). Store in the refrigerator.

Makes approximately 1 pint.
Recipe Notes
* Or as many tomatoes as your desire.  You can use beefsteak tomatoes, heirloom, and/or cherry tomatoes for this recipe.
Comments and Reviews