How To Peel Fresh Tomatoes – Photo Tutorial
You probably are saying, "Why peel tomatoes?"  The answer is very simple – peeling gives a better texture that is softer in the mouth.  Peeling fresh tomatoes is easier that you think – so do not be afraid of this!  Check out the photo tutorial below for quick and easy peeling fresh tomatoes.
Tomato season is a great time for making big batches of tomato sauce for freezing or putting up jars of fresh tomatoes.  Most recipes, however, ask for peeled fruit.  The following technique makes this job easy and quick.

Needed To Peel Fresh Tomatoes: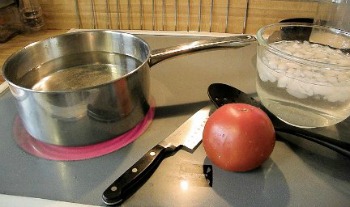 Fresh Tomatoes:  Select tomatoes that are firm, glossy, smooth, plump, heavy for their size, and free of bruises.  Avoid tomatoes that are overly ripe and soft.
Large saucepan
Water to fill the saucepan just above the level of the tomatoes
Large bowl filled with ice and water
Sharp knife
Ladle or slotted spoon
Directions:
In a 5-quart pan over high heat, bring 3 quarts of water to a boil.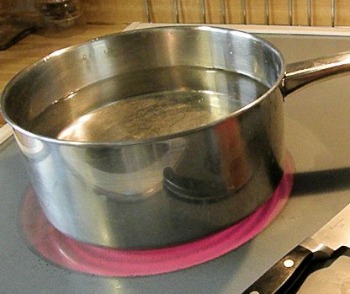 Prepare a large bowl of ice water that contains enough ice water to cover the amount of tomatoes you need to peel; set aside.
Use a paring knife to cut out the stem at the top of each tomato.  Turn tomato over.  Carve a shallow X in the bottom (blossom end) of each tomato.  This process, known as scoring, will help you quickly remove the skin later.
Working in batches of three (3), using a slotted spoon, plunge (drop) the prepared tomatoes into the boiling water, a few at a time, for 10 to 15 seconds.
NOTE:  Do not leave tomato in the boiling water for more than 15 seconds as your tomato will become mushy (especially if you are using the tomatoes uncooked in a salad or salsa, you do not want them in a boiling pot any longer than they have to be, because they will start to cook.)
Remove hot tomato with a slotted spoon.  Gently place the tomato in a bowl or sink filled with ice water to cool them down.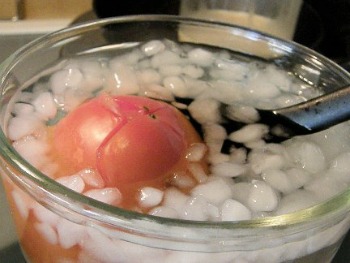 Once the tomatoes are cool, immediately take them out of the water, using a slotted spoon, to drain.  Leaving the tomatoes in water may cause them to become water logged.
Gently pull away the skin of the tomatoes using your fingers or with the aid of a paring knife, beginning at the points created by the X.  The skin will easily slip off each tomato.
You may use a small paring knife or your fingers to remove the skin.  Try not to puncture the flesh of the tomato while you are peeling.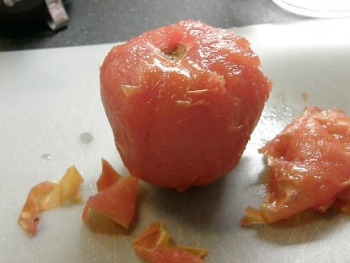 Tomato Recipe Index:  Outstanding collection of family favorite recipes using tomatoes (fresh, canned, and dried).  These easy-to-follow recipes include appetizers, pasta and rice, soups and stews, salads, sauces, and lots more to help you in your cooking needs.
Click here to find out about Tomato Hints, Tips, and Information.
Source:  Photos are courtesy of Cynthia Detterick-Pineda of Andrews, TX.
Comments and Reviews