Zucchini Salad with Shaved Parmesan is a refreshing, light, and a surprisingly filling, summer salad.  Another plus is, it is an easy way to use up those abundant amounts of zucchini squash.  It seems like zucchini squash grows out of control, like weeds, in home gardens and if you don't have a plethora of your own, your co-workers or neighbors will soon be around with baskets full.
Here is a salad that makes an interesting presentation plus a unique variation of using zucchini.  Makes an outstanding salad to serve your family and friends.
I slightly adapted this wonderful Zucchini Salad with Shaved Parmesan salad recipe from Eating Well magazine, August 2010.  Photo is also from the magazine.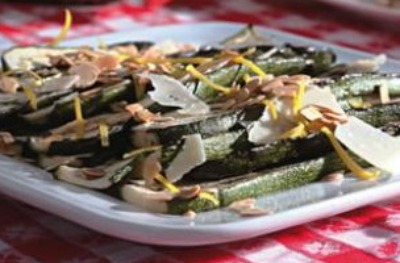 Zucchini Salad with Shaved Parmesan Recipe:
Keyword:
Zucchini Salad with Shaved Parmesan Recipe
Ingredients
1

medium-size

lemon

2

tablespoons

olive oil,

extra-virgin

1/2

teaspoon

pepper,

freshly-ground

1/4

teaspoon

salt

2

pounds small

zucchini

cut into lengthwise slices about 1/4-inch thick*

1/2

cup

almonds,

sliced and toasted**

1/3

cup

Parmesan Cheese

(Parmigiano-Reggiano), thinly-shaved***
Instructions
Bring a small saucepan of water to a boil over medium-high heat. Remove the peel from the lemon with a vegetable peeler (making sure not to include any white pith); reserve the lemon and set aside. Cut the lemon peel into thin slivers. Add the lemon slivers to the boiling water and cook approximately 4 to 5 minutes or until soft. Remove from heat, drain, and set aside to cool.

Lemon Dressing: Squeeze the juice from the reserved lemon into a small bowl. Whisk in the olive oil, pepper to combine; set aside. NOTE: This Lemon Dressing may be made ahead of time and stored in the refrigerator. Bring to room temperature when ready to serve.

Preheat your grill to medium-high or place a grill pan over medium-high heat on your stove top until hot. Oil the grill rack or the grill pan.

Grill the zucchini slices, turning once, approximately 6 to 8 minutes or until tender; remove from grill.

Arrange the grilled zucchini slices on a platter and drizzle with the reserved Lemon Dressing. Serve sprinkled with almonds, Parmesan cheese, and the lemon peel.
Recipe Notes
* Since the zucchini squash is served raw, be sure to use the smallest, freshest ones you can find.
** Toasting almonds: To toast sliced or chopped nuts, place in a small dry frying pan and cook over medium-low heat, stirring constantly, until fragrant and lightly browned, approximately 2 to 4 minutes.
*** Use your vegetable peeler to shave off thin cheese slices.
Comments and Reviews