Yes, with this low-fat fish and chips recipe, you still can enjoy fish and chips even when on a diet.  I made these fish and chips for my husband, and he loved it.
For more great Diet and Diabetic Recipes, check out my Diet Recipe Index.  Also check out my Nutritional Chart for fat grams, fiber grams, and calories for all your favorite foods.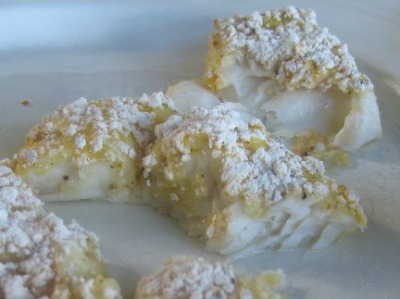 Low-Fat Fish and Chips Recipe:
Low-Fat Fish and Chips Recipe
Ingredients:
Tartar Sauce (see recipe below)
1 pound (3 medium) russet potatoes, unpeeled
1/2 cup whole-wheat flour
6 tablespoons whole-wheat bread crumbs
Pinch freshly-ground black pepper
1 egg white or egg substitute
1 pound halibut, cod, sole, or scrod fillets, cut into 4-ounce portions.
Instructions:
Preheat oven to 400 degrees F. Lightly spray a baking sheet with with non-stick cooking spray.
Prepare Tartar Sauce.
Scrub potatoes and slice potatoes lengthwise into wedges. Arrange the potato wedges on one side, leaving enough room for the fish fillets, and spray them with cooking spray. Bake for approximately 15 to 20 minutes or until golden brown and tender.
While potatoes are baking, combine flour, bread crumbs and pepper in a shallow bowl.
In another shallow bowl, lightly beat the egg white. Dip the fish fillets in the egg white, then coat both sides with the flour mixture. Transfer the prepared fish fillets to the baking sheet, alongside the potatoes; continue to cook for approximately 10 minutes more or until a meat thermometer inserted in the fish fillets registers an internal temperature of 145 degrees F. Remove from oven and serve.

This is the type of cooking and meat thermometer that I prefer and use in my cooking. I get many readers asking what cooking/meat thermometer that I prefer and use in my cooking and baking. I, personally, use the Thermapen Thermometer shown in the photo on the right. To learn more about this excellent thermometer and to also purchase one (if you desire), just click on the underlined: Thermapen Thermometer.
Makes 4 servings (4-ounce serving of fish, 4-ounce serving of potatoes, and 1 tablespoon of Tartar Sauce per serving).
Each Serving Totals - 1.3 Fat Grams, 226.9 calories, 6.4 WW Points
Tartar Sauce Recipe:
2/3 cup fat-free mayonnaise
1 tablespoon sweet pickle relish
1 teaspoon freshly-squeezed lemon juice
1 teaspoon minced parsley
Pinch cayenne pepper
In a small bowl, combine mayonnaise, pickle relish, lemon juice, parsley, and cayenne pepper until well blended. Store, covered, in refrigerator until ready to use.
https://whatscookingamerica.net/FishChipsLowFat.htm
Source:  I adapted this wonderful recipe is from the cookbook -, by Canyon Ranch, Inc. and Jeanne Jones, 1998.
Comments and Reviews