Tarragon Mayonnaise is excellent served with poached fish, crab cakes, steak sandwiches.  The addition of tarragon takes ordinary mayonnaise to a brand new level – It is both flavorful and robust.
My new favorite way to serve this Tarragon Mayonnaise is as a dip for steamed artichoke.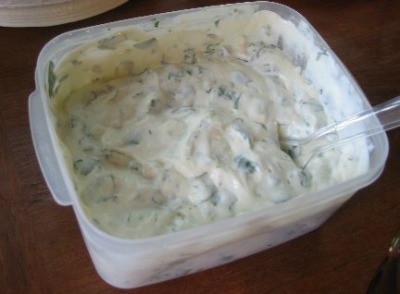 TTarragon Mayonnaise Recipe
Ingredients:
1 cup mayonnaise (regular, low fat, or homemade), room temperature
1/4 cup plain yogurt
4 green onions, chopped
1 tablespoon small capers, drained and rinsed
1 tablespoon fresh-squeezed lemon juice
1 tablespoon chopped fresh tarragon leaves or 1 teaspoon dried tarragon
2 teaspoons Dijon-style mustard
2 teaspoon prepared horseradish
Salt and pepper to taste
* Learn how easy it is to make Homemade Mayonnaise.
Instructions:
In a medium bowl, combine mayonnaise, yogurt, onions, capers, lemon juice, tarragon, mustard, horseradish, salt, and pepper; mix until well blended.
Cover and store in refrigerator until ready to use.
Makes approximately 1 1/2 cups.
https://whatscookingamerica.net/Sauces_Condiments/TarragonMayonnaise.htm
Comments and Reviews