Cheese Straws Recipe
Cheese Straws, whether made from scratch or with store bought puff pastry, are a versatile and welcome addition to afternoon tea, the cocktail hour or as an accompaniment to soup or salad.
Recipe and Photos by Ellen Easton 2020© All Rights Reserved
Cheese Straws or "Straws" finds it's origins in England but became an especially popular snack staple in the Southern United States. With the hot and humid weather of the south, it was difficult to keep imported cheese for very long. To be resourceful, kitchen cooks began mixing the cheese with dough to bake into bread sticks. It became a way to still get enjoyment of the cheese flavor and keep the cheese from going to waste.  Now a Southern tradition, Straws are the perfect appetizer that every Southern hostess keeps up their sleeve. Cheese straws also go well with salads, soups and are especially appealing to serve during cocktail hour. These tempting Cheese biscuits really saw their hey day in the 1950's and 60's. Many older recipe books and magazines suggest to stack the straws like a log cabin for presentation on a tray, or even serve them between the main course and dessert.
Find more delicious Appetizer Recipes!
Check out more of Ellen Easton's Tea Travels™ articles and recipes.
Cheese Straws Recipe
A traditional Southern Snack. This recipe is a quick and easy version made with store-bought puff pastry.
*Can also substitute canned biscuit dough.
Yields 20-40 - depending on the size of the straws
Ingredients
1 1/2

cups

mixed hard cheese (extra sharp cheddar, Parmesan or Pecorino Romano)

finely grated

2

sheets

store-bought puff pastry

thawed and divided

2

tablespoons

herbs and spices of your choice

finely ground

1

egg white
Instructions
Heat the oven to 375° Fahrenheit. Place rack in the middle of the oven. Line 2 baking sheets with parchment paper or silicone baking mats and set aside.

In a mixing bowl place the finely grated cheese and any herbs or spices of your choice. Blend together.

Place wax paper on the counter work space. Dust with flour. Unfold or unroll 2 of the thawed puff pastry sheets on the floured wax paper.

Sprinkle the cheese mixture over the puff pastry. Flour your hands and gently knead the mixture into the puff pastry dough until evenly distributed. If in-between batches the dough becomes warm or sticky, place in the refrigerator for ten minutes to cool down. Using a rolling pin, roll out the pastry until 1/8' thick. Repeat in batches until all of the dough is used.

Using a sharp knife coated with vegetable or olive oil (to keep the dough from sticking) cut straight down into the dough to make strips 6, 8 or 10 inches long and 1 inch wide. Place the strips onto the prepared baking sheet, one or more inches apart. Either use flat or twist into a spiral or use two strips to braid together, pressing the ends to secure closure. Brush the top of each strip with egg white or vegetable oil. Lightly sprinkle extra cheese and herb/ spice mixture on top.


Place the baking sheets into the refrigerator for one hour to firm. (This will allow the pastry to puff when baked.)


The baking time will be determined by the size of your straws, approximately 15 to 25 minutes. Check at 12 to 15 minutes and continue baking if needed. The straws will puff and look deep golden brown with a crispy, dry texture.

Remove from the oven and allow to thoroughly cool until able to lift from the baking sheet with ease.

Serve warm or cool down to room temperature.

Best to use on the same day as made. Yields 20 to 40 straws depending on size.
Storing Cheese Straws
Extra straws may be stored in an airtight container for two to three days.
TEA TRAVELS™ – Wishing You Happy TEA TRAVELS!™  Tea is the luxury everyone can afford!™ and Good $ense for $uccess are the trademarked property of Ellen Easton/ RED WAGON PRESS
Ellen Easton, author of Afternoon Tea~Tips, Terms and Traditions (RED WAGON PRESS), a lifestyle and etiquette industry leader, keynote speaker and product spokesperson, is a hospitality, design, and retail consultant whose clients have included The Waldorf=Astoria, Plaza Hotels, and Bergdorf Goodman.  Easton's family traces their tea roots to the early 1800s, when ancestors first introduced tea plants from India and China to the Colony of Ceylon, thus building one of the largest and best cultivated tea estates on the island.

Purchase Ellen Easton's Tea Books:
Each 5 x 7 book is $20 postpaid Continental USA only.  Wholesale and fundraising accounts welcome.  Include name, address, zip code, and phone number for shipping.  All Sales Final. Check or MO order payable to:  RED WAGON PRESS, 45 East 89th Street, STE. 20A, New York, NY 10128-1256.  All inquires to teatravels@aol.com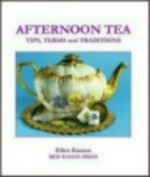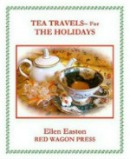 AFTERNOON TEA…TIPS, TERMS and TRADITIONS
72 pages of how to's, 27 photos, history, etiquette and FAQ about afternoon tea, serving styles and more.
TEA TRAVELS™ – FOR THE HOLIDAYS
64 pages, 21 color photos. A complete holiday menu includes 25 easy to prepare recipes; theme teas, decorating & gift ideas; invitation template and secret sources.
Comments and Reviews