Classic Caviar Plate is a very romantic way to impress your special love one or guests!  My special time to serve this caviar plate is on New Year's Eve.
Caviar makes a very elegant, glamorous, and delicious appetizer to bring in the New Year!   A small jar of fine caviar can go a long way when served with the proper accompaniments.  Learn about the classic caviar accompaniments and how to serve caviar correctly.
Remember, always keep your caviar in its original unopened tin or jar in the refrigerator until just before ready to serve.  
Do not open the tin or jar before you are ready to serve – not even for a peek!   
Take it out of the refrigerator 15 minutes to an hour before you intend to serve to it.
Use a mother of pearl caviar spoon or a bone, gold plated, or plastic spoon.  Never use stainless steel or silver to serve caviar.
Once opened, the caviar tin or jar should be consumed within an hour for maximum taste.
There are no rules on what beverage to serve with caviar.  You are the best judge on what beverage tastes the best to you and your friends.  The two most popular beverages served are chilled vodka, a very dry Champagne, or sparkling wine.  A dry white wine also works well.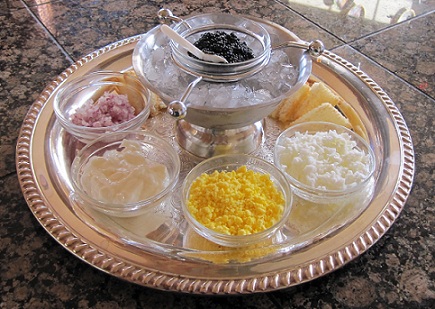 Classic Caviar Plate Recipe:
Keyword:
Classic Caviar Plate Recipe, Toast Points Recipe
Ingredients
Toast Points:
1

loaf

white bread

(good quality), thinly sliced

Butter,

unsalted, room temperature
Instructions
Caviar Plate Instructions:
Remove caviar from the refrigerator. Allow refrigerated caviar to sit (unopened) at room temperature for 5 to 10 minutes prior to serving.

Place the caviar tin or jar in a small decorative Caviar Servers and Bowls with ice to keep cold.

Peel hard-cooked eggs and separate the whites and yolks. Chop yolks and whites separately.

To serve, place the bowl with the caviar tin on a large platter and surround with small bowls of chopped egg yolks and egg whites, lemon wedges, red onion, chives, creme fraiche, and Toast Points (see recipe below).
Toast Points Instructions:
Preheat oven to 350 degrees F. Trim the crusts off and slice the bread in halves on the diagonal, twice, to form four (4) triangles; set the bread on a baking sheet, brush one side with the butter.

Place the bread in a single layer on a baking sheet.

Toast the bread until it's golden brown and crisp on top, about 1 to 2 minutes. Flip and cook the other side until golden, about 1 minute. Remove from oven and cool the "points" on a baking rack.

Toast Points can be made up to a day ahead; store them in an airtight container.
Comments and Reviews