Edamame Hummus is an interesting and delicious Asian twist to what we think of as traditional hummus, a Middle Eastern chickpea spread.  Using steamed edamame in place of the chickpeas makes this hummus bright green in color.  It is no more complicated to make this Edamame Hummus than regular hummus,
What are Edamame beans?  Edamame is the Japanese name for the green vegetable soybeans.  Edamame is most popularly known as a lightly steamed and perfectly salted appetizer at Japanese restaurants.  The beans are unripened green soybeans fresh from the pod.  They are among the very few plant-based foods that supply complete protein.  They supply complete protein because the beans contains all nine essential amino acids.  Protein is the reason that soybeans have historically been called "meat of the field" or "meat without bones."
Hummus made with these beans produce a fresh and light treat that, at first look, will remind you of guacamole, but tastes completely different.
This hummus is an absolutely great vegan recipe for an appetizer dip or spread that Edamame lovers will enjoy.  Try serving with pita bread or chips, fresh carrot and celery sticks.  I encourage you to give this hummus a try as changing things up now and then keeps us all happy!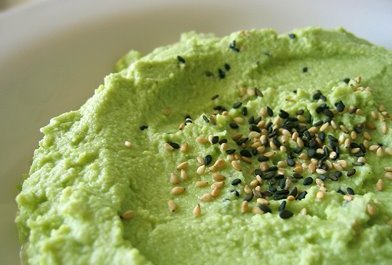 Edamame Hummus Recipe:
Keyword:
Edamame Hummus Recipe
Ingredients
1/2

pound (about 1 1/2 cups)

Edamame beans

(green soy beans), frozen, shelled

1/4

cup

Tahini

(sesame seed paste), room temperature*

1/4

cup

water

1/2

teaspoon

lemon zest,

freshly-grated

3

tablespoons

lemon juice,

freshly-squeezed

1

clove

garlic,

smashed

3/4

teaspoon

coarse salt

1/2

teaspoon

ground cumin

1/4

teaspoon

ground coriander

3

tablespoons

olive oil,

extra-virgin, divided

1

tablespoon

flat-leaf parsley,

chopped, fresh
Instructions
In a large pan over medium-high heat, boil the frozen Edamame beans in salted water, covered, for 4 to 5 minutes.

In a food processor or blender, puree the Edamame beans, Tahini, water, lemon zest, lemon juice, garlic, salt, cumin, and coriander until smooth. With the motor running, slowly drizzle in 2 tablespoons of the olive oil and mix until absorbed.

Transfer to a small bowl, stir in the parsley and drizzle with remaining oil 1 tablespoon of olive oil. You can also garnish with some black or white sesame seeds.

Serve with fresh vegetables or pita bread.
Recipe Notes
* Tahini is a key ingredient in hummus, the traditional Middle Eastern chickpea spread.  Look for the lightest colored raw Tahini you can find when making any hummus recipe.  When you open the can or jar of Tahini, you will see that the oil has separated and risen to the top.  You must stir before using to even out the consistency.  Depending on the brand of your Tahini and your taste, you might need to add a little less or more Tahini.  If necessary, start with less than 1/4 cup (like 2 to 3 tablespoons) and gradually adjust accordingly.
Comments and Reviews