Goat Cheese Grape Pistachio truffles are very easy to make, delicious, and refreshing!  Deliciously sweet grapes encased in goat cheese and pistachios.  The salty crunch of the pistachios goes along wonderfully with the savory/sweet goat cheese and grape pairing.  This appetizer is great served with your favorite wine.  It is a great dish to serve for a wine tasting gathering.  These truffles are best when served the day they are made.
They are a chilled dessert and go well at summer barbecues and picnics.  They add a little gourmet touch to the meal with just a small amount of planning.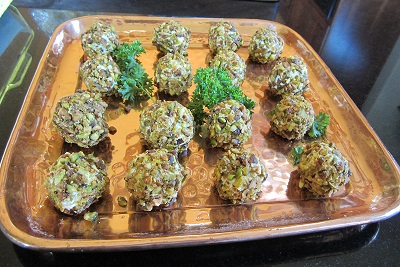 Goat Cheese Grape Pistachio Truffles Recipe:
Keyword:
Goat Cheese Grape Pistachio Truffles Recipe
Ingredients
1 1/2

pounds (about 1 cup)

pistachio nuts,

toasted, shelled, chopped rough

8

ounces soft

goat cheese,

room temperature

24

red grapes,

seedless, stems removed and wiped clean*
Instructions
Preheat oven to 350 degrees F.

Spread pistachio nuts on an ungreased baking sheet and toast in the oven for 7 to 9 minutes. Remove from oven and allow to cool. In a blender or food processor, process the toasted pistachio nuts until finely chopped; set aside.

Place approximately 1/2 tablespoon of goat cheese in the palm of one hand and in it place a grape, gently shaping the mixture around the grape to coat. Repeat process with remaining grapes. Refrigerate on a parchment or wax paper-lined sheet pan for 15 minutes.

Remove chilled cheese-coated grape balls from the refrigerator and roll them in the prepared pistachiio nut mixture to cover completely and refrigerate for approximately 30 to 60 minutes or until coating is firm.

Refrigerate until ready to serve. Bring to room temperature 15 minutes before serving. Best served the day made.

Note: Some cooks like to cut the balls in half before serving and serve cut-side up. I, personally, like to serve the whole balls. Your choice.
Variation Ideas:
Before serving, sprinkle with a couple grains of salt and 1 to 2 drops of truffle oil over the top.
Recipe Notes
* Green grapes may be substituted if desired.
Comments and Reviews