Greek Dolmades
Stuffed Grape Leaves with Gorgonzola recipe is a great appetizer to serve with your favorite wine and cheese! These dolmades are a tried and true recipe that I have made and served to my friends several times. The olive and Gorgonzola cheese mixture used in this recipe also makes a great bruschetta topping.
Also known as Greek Dolmades, these small bundles of cheese and rice are wrapped in grape leaves are a favorite dish in Greece.  Stuffed Grape Leaves are often served as part of a meze (appetizer) plate in Greece.  Too often they come from a can and are not fresh.  Homemade are far superior to the canned. If you have never tried fresh dolmades, now is the time. They are very easy to make and so delicious!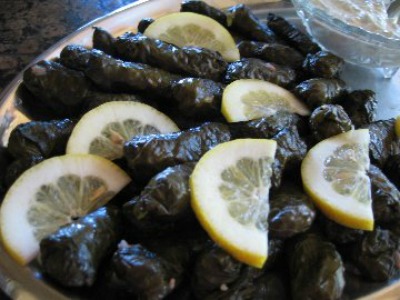 Stuffed Grape Leaves with Gorgonzola and Olives Recipe:
Keyword:
Greek Dolmades Recipe, Stuffed Grape Leaves with Gorgonzola Recipe
Ingredients
1

(8-ounce) jar

grape leaves,

drained and rinsed*

3/4

cup

green olives,

chopped

3/4

cup

Kalamata olives,

chopped

1/2

cup

Gorgonzola Cheese,

crumbled

3/4

cup

macadamia nuts,

chopped

5

tablespoons

basil leaves,

freshly-chopped

4

Roma tomatoes

(plum tomatoes), seeded and chopped 

1

red bell pepper,

cored and chopped

3 1/2

tablespoons

garlic,

freshly-chopped

2

tablespoons

brown sugar 

Salt and freshly-ground black pepper

to taste
Instructions
To prepare the grape leaves, bring 2 quarts water to a boil. Unroll the grape leaves. The leaves are fragile, and they may be packed with overlapping folds, making it fairly tough to isolate them. Place the leaves in the boiling water for 2 to 3 minutes to soften the leaves and rid them of the brine (this makes the leaves easier to handle and roll). NOTE: Do not throw away any torn or damaged leaves, as they can be used to patch holes in other leaves.

Using a slotted spoon, remove the leaves from the water and lay on paper towels to drain. With a sharp knife or scissors, cut out the protruding stems and any hard veins from the leaves. Set the grape leaves aside.

In a bowl, mix the green olives, Kalamata olives, Gorgonzola cheese, macadamia nuts, basil, tomatoes, bell pepper, garlic, and brown sugar. Season with salt and pepper.

To stuff the leaves, start with your largest leaves. Take a leaf and carefully spread it on a flat plate or pan with the veins facing upward to you (leaf shiny side down). If the leaf is torn or has a hole in it, take a reserved damaged leaf and use it as a patch, place the leaf over the hole.

Place a heaped tablespoonful of the olive and Gorgonzola mixture in the center near the stem end of the leaf (the amount of stuffing will depend on the size of the leaves). Press the stuffing into a small sausage-like shape. Fold the stem end pf the leaf over the filling, then fold both sides toward the middle, and then roll up into a cigar shape. The rolls should be cylindrical (about 2 inches long and 1/2 inch thick). Squeeze lightly in the palm of your hand to secure the rolls. Repeat with the remaining grape leaves and filling.

Transfer the stuffed grape rolls to a serving dish. Cover with plastic wrap and refrigerate. Serve chilled or at room temperature.

Grape leaf ready to stuff

Grape leaf ready to stuff

Rolling grape leaf

Folding up the grape leaf

Finished grape leaf
Recipe Notes
* To use fresh grape leaves:  Grape leaves are best picked from grape vines in the Spring, while they are still tender.  Select young whole, medium leaves.  NOTE: Be sure and pick them before the first spray as some sprays are toxic.  Most of the spays used today are non-toxic and water soluble, but sulfur taste is not what you want on your grapes.  Pick approximately 1 1/2 pounds of fresh leaves which are the same as one jar of preserved leaves.  Using scissors, cut off the stems and either soak in very hot water for 15 minutes to soften or blanch grape leaves until they are soft (the time will depend on the age of the leaves).  They can be washed and frozen between layers of waxed paper or plastic wrap and will keep for a year.  Check out my article on Using Fresh Grape Leaves.
* Using bottled Grape Leaves:  To prepare bottled grape leaves, rinse well under cold water to remove the brine.  Place them in a colander (back side up) to drain and hold until ready to use.  NOTE: Do not throw away any torn or damaged leaves, as they can be used to patch holes in other leaves.
Comments and Reviews