Perada Pear Jelly, also known as Pear Cheese or Pear Jelly, has been considered a delicacy in Iberian and Latin cultures for many years,  This spread nicely goes with cheeses such as Manchego cheese.  It is also is fantastic served on a cheese platter.  If you enjoy Spanish food, as I do, then you are probably familiar with this delicious treat.
Homer, a Greek poet from the eighth century BC, called pears a "gift of the gods," and many cooks today agree.
This fantastic Perada Pear Jelly recipe and photo are by Chef Mark Tafoya, chef/owner of ReMARKable Palate Personal Chef Service.  Mark's recipe originally appeared in the online magazine called The Gilded Fork.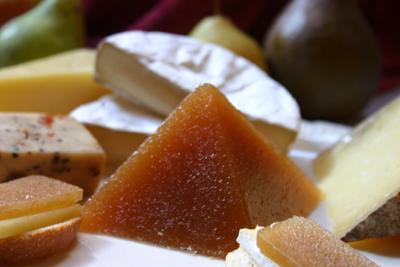 Perada Pear Jelly Recipe:
Keyword:
Perada Pear Jelly Recipe
Servings
:
16
ounces jelly
Ingredients
6 or 7

medium-sized

pears,

firm (leave the skin on)*

2 1/2

cups

caster sugar

or superfine sugar

7

ounces

water

Juice

of 1/2 lemon

4

tablespoons

liquid pectin

(optional)**
Instructions
Rinse the pears. Cut off any bad places (bruises, etc.). Remove the stalks but leave the skin on.

Cook the pears in boiling water, whole and unpeeled, until soft. Remove from heat and let cool just until easy to handle.

Peel off the skin while still slightly warm. Sieve the pear pulp using a food mill or a metal spoon and a wire mesh strainer. You should have 3 cups of pear puree.

The amount of sugar used should be about 3/4 that of the puree. Dissolve the sugar in 7 ounces of water. Boil syrup for a few minutes until it reaches 218 degrees F. Then add the pear puree, lemon juice, and liquid pectin (if using). Continue to cook, stirring, until it reaches a rapid boil; boil for a few minutes, then reduce heat to low. Cook for an hour or so, stirring often enough so it does not stick to the bottom, until the mixture reduces and thickens. It will be ready when the mixture pulls away from the sides of the pan.

Fill bowls, molds, or hot sterile jam jars. Let cool completely, and refrigerate until set.

Chef's Note: To mold the perada into a form that will hold its shape for slicing, you can add liquid pectin, or include an apple along with the pears while cooking. This will help the perada to set fully so it can be sliced, since pears are naturally low in pectin. Pour into molds and allow to set fully. Once set and completely cooled, un-mold and slice.

To serve, un-mold and either set whole on your serving platter or slice and serve with a variety of cheeses. NOTE: Create a cheese platter with the best cheeses you can afford.

Makes about 16 ounces of jelly.
Recipe Notes
* You can not judge a pear by the color of its skin.  Although a few varieties change from green to yellow as they ripen, others do not change colors at all.  Purchase fresh pears that are firm without bruises or spots. Pears are ripe when the skin near the stem yields to gentle pressure.  Pears ripen from the inside out, so do not buy soft pears.
** Use only the liquid pectin called for in this recipe.  Powdered pectin and liquid pectin are not interchangeable in recipes. 
Comments and Reviews