Stuffed Cherry Tomatoes make a refreshing summertime appetizer.  Try filling bite-size Stuffed Cherry Tomatoes, round or pear shaped, with a mixture of savory fillings.  Let your imagination be your guide in stuffing cherry tomatoes.  Listed below are a few favorite fillings for cherry tomatoes.  Of course fresh cherry tomatoes will yield the best flavor, but unfortunately fresh tomatoes are not always available.
In the Spring when planning your garden, set aside room for a cherry tomato bush.  Did you know that there are cherry tomato varieties that come in, red, yellow, green and even black?  There is nothing like walking out into your garden and plucking the plump warm cherry tomatoes fresh for your dinner salad or appetizers like the stuffed cherry tomatoes.  If you want a bit more than a bite size stuffed cherry tomato, try using plum or grape tomatoes with this recipe.  They are slightly bigger and can hold more stuffing.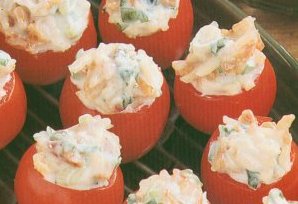 Stuffed Cherry Tomatoes Recipe:
Keyword:
Stuffed Cherry Tomatoes Recipe
Servings
:
24
stuffed tomatoes
Ingredients
24

cherry tomatoes

(can use a mixture of red and yellow tomatoes)

Favorite Fillings

(see recipes below)
Instructions
Cut a small portion off the bottoms of each tomato so they will sit on a try without rolling. slice off the tops of each tomatoes and scoop out centers with the small end of a melon scope to make a hollow yet sturdy shell; discard centers. TIP: Turn cherry tomatoes upside down and use the bottom for the top when stuffing. This keeps them standing straight.

Invert tomatoes onto damp paper towels and cover with plastic wrap. Refrigerate until ready to fill.

Using a small spoon, fill each tomato with about 1 teaspoon of the filling of your choice. Refrigerate until ready to serve. Remove from refrigerator 15 minutes before serving.

Goat Cheese Filling:
1/4 pound fresh goat cheese
1/4 cup minced fresh basil leaves
1/2 teaspoon salt or to taste
1/2 teaspoon freshly ground pepper
In a bowl, combine the cheese, basil, salt, and pepper. Mix with a fork until well blended.
Mozzarella Cheese Filling:
1 to 2 teaspoons pine nuts, toasted and coarsely chopped
4 ounces fresh soft Mozzarella Cheese
2 tablespoon chopped oil-packed sun-dried tomatoes
1 teaspoon chopped fresh chives
Salt and freshly ground pepper
Preheat oven to 350 degrees F.
Place pine nuts on a baking sheet; bake for 10 minutes or until a light golden brown. In a bowl, combine mozzarella cheese, sun-dried tomatoes, pine nuts, and chives. Season to taste with salt and pepper.
BLT Filling:
1 1/2 pound lean bacon
Mayonnaise
In a large frying pan over medium-high heat, fry bacon until crisp; drain and crumble into bits. In a small bowl, combine bacon bits and mayonnaise; stir to moisten.
Creamy Shrimp Filling:
1/4 pound cooked shrimp – peeled and deveined
1/2 (8 ounce) package cream cheese, softened
2 tablespoons mayonnaise
2 tablespoons Parmesan cheese
1 teaspoon prepared horseradish
1/2 teaspoon fresh-squeezed lemon juice
Salt and pepper to taste
In a food processor, mix the shrimp, cream cheese, mayonnaise, Parmesan cheese, horseradish, and lemon juice. Season with salt and pepper. Blend until smooth.
Guacamole Filling:
1 clove of garlic, minced
1/2 teaspoon salt or to taste
1 large ripe avocado
Fresh-squeezed lime juice
Mash the ripe avocado with a fork until smooth; add the minced garlic. Add some of the tomato pulp to the mashed avocado. Add a little lime juice.
Crab Filling:
1/2 pound cooked crabmeat, finely chopped
1/4 cup diced celery, very finely chopped
1 tablespoon cashew nuts, chopped fine
1/4 teaspoon Worcestershire sauce
1/8 teaspoon salt or to taste
1/2 teaspoon fresh tarragon, chopped (or 1/4 teaspoon dried tarragon)
1/2 to 1 tablespoon mayonnaise
In a bowl, combine crabmeat, celery, cashew nuts, Worcestershire sauce, salt, tarragon, and mayonnaise (use just enough mayonnaise to moisten and hold ingredients together).
Comments and Reviews