This Cincinnati Chili Recipe is from one of the self-proclaimed true chili capital, Cincinnati.  It is a flavorful, favorite version of chili that is rich and delicious. Try making this Cincinnati Chili Recipe for your family!
My friend, Karen Calanchini of Redding, CA originally tested this delicious version of Cincinnati Chili for my cookbook.  Karen says, "This is truly a fantastic recipe and I have shared it with so many people who gave it to their kids, all with great reviews."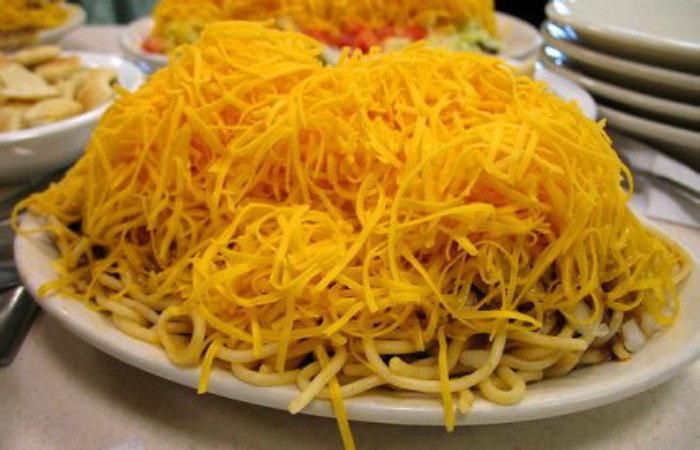 Learn about the History of Cincinnati Chili and check out another version of Cincinnati Chili.
Learn about the history and legends of Chili, Chili Con Carne.
Cincinnati Chili Recipe - Version 2:
Keyword:
Cincinnati Chili Recipe - Version 2
Servings
:
6
to 8 servings
Ingredients
Cincinnati Chili:
1

quart

beef stock

or broth

2

pounds

lean ground beef

2

medium

onions,

finely-chopped

2 to 3

garlic

cloves, minced (or to taste)

1

tablespoon

chile powder

1

teaspoon

ground allspice

1

teaspoon

ground cinnamon

1

teaspoon

ground cumin

1/4

teaspoon

ground cloves

1/2

teaspoon

cayenne pepper

1 1/2

tablespoons

unsweetened cocoa or 1/2 ounce grated unsweetened chocolate

1/2

teaspoon

salt

and coarsely-ground black pepper to taste

1

(15-ounce) can

tomato sauce

1

tablespoon

Worcestershire sauce

2

tablespoons

cider vinegar

1

(16-ounce) package

spaghetti pasta,

uncooked, dried

1 to 2

(16-ounce) cans

Kidney Beans

(or to your taste)
Toppings:
Oyster Crackers

Cheddar Cheese,

shredded

Onion,

chopped
Instructions
In a large pot over medium-high heat, add beef broth. Crumble raw ground beef in to the broth, breaking up the pieces of meat as it starts to cook; simmer for 30 minutes.

Add onion, garlic, chile powder, allspice, cinnamon, cumin, cloves cayenne pepper, cocoa or chocolate, salt, pepper, tomato sauce, Worcestershire sauce, and cider vinegar. Reduce heat to low, and let simmer, uncovered, approximately 2 hours and the sauce thickens. During the last 30 minutes, add the kidney beans.

NOTE: I like to make the chili mixture one day ahead of time. When ready to use, remove the fat that has risen to the top; discard fat. Reheat chili mixture over low heat.

Cook spaghetti according to package directions and transfer onto individual serving plates (small oval plates are traditional).

Ladle chili mixture over spaghetti and serve with toppings of your choice. Oyster crackers are served in a separate container on the side.
Cincinnati chili lovers order their chili by number in the Chili Parlors – Two, Three, Four, or Five Way.  Let your guest create their own final product:
Two-Way Chili:   Chili served on spaghetti
Three-Way Chili:   Additionally topped with shredded Cheddar cheese
Four-Way Chili:   Additionally topped with chopped onions
Five-Way Chili:   Additionally topped with kidney beans
Source: Recipe adapted and used with permission from the book The Great Big Book of Chili by Tom Bailie, published by America House LLC.
Comments and Reviews