This Egg Nog Punch adds a fun twist with the sparkle of carbonation to make a traditional holiday drink that everyone will enjoy. The creamy texture sprinkled with nutmeg makes a favorite classic egg nog punch that can be made ahead of time. Add your choice of rum or brandy before serving.
Eggnog is a sweetened beverage made with either ice cream or a combination of milk and eggs. You can even buy commercial pre-made mix in most grocery stores during the holiday season.
Check out more of Linda's Beverage Recipes.  Please check out my Holiday Open House Menu which includes this popular and delicious Eggnog Punch.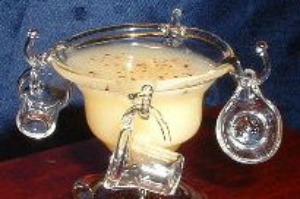 Eggnog Punch Recipe:
Keyword:
Eggnog Punch Recipe
Ingredients
2

quarts

vanilla ice cream, 

softened

4

cups

coffee,

hot

2

(liter-size) bottles

7-Up

2 to 4

cups

whiskey

or bourbon or to taste

1

cup

light rum

7

cups

commercial eggnog

drink*

Nutmeg,

ground
Instructions
In a punch bowl, combine vanilla ice cream and coffee, blending until ice cream is melted.

Add 7-Up, whiskey or bourbon, rum, and eggnog; stir until lightly blended. Sprinkle with nutmeg.

NOTE: More 7-Up may be added, if desired.
Recipe Notes
* Eggnog can be found in the refrigerated section of your local grocery store.
Your Might Also Like:
Tom and Jerry Batter
This is a wonderful recipe, and it is a Christmas tradition for my family.  The drink is often mistaken for eggnog – but eggnog it is not!   A Tom and Jerry is light and spicy, with a sweet foamy crown that forms when hot water is stirred into the batter.  For the children in your family, just leave out the alcohol.
Mexican Egg Nog (Rompope)
Rompope, also known as Rompope de Santa Clara, is the Mexican version of the popular holiday egg nog.  The word "rompope" is a derivation of the word "pope."  This is a favorite holiday drink in Mexico, and since Rompope is strong and sweet, it is meant to be sipped in small glasses.
Italian Affogato  – Affogato al Cafe
Affogato means "drowned" in Italian or "drowned in coffee."  It is a dish of perfect, preferably smooth ice cream, drowning in a cup of espresso – like a decadent coffee float!
Comments and Reviews