This wonderful Watermelon Agua Fresca drink is a light-bodied fruit water that is combined with sweetener and water.  Watermelon agua fresca makes a great alternative to iced tea or lemonade.  I also love the bright red color that watermelon adds to this beverage.  In recent years, Agua frescas have become more popular in the United States.  Americans are loving these sweet and thirst quenching drinks.
My daughters and I enjoy blending up various types of agua fresca fruit drinks during the summer months.  You can make these drinks from any fresh fruit or even vegetables such as Cucumber Zucchini Agua Fresca.  Next time you are at the local farmers market, pick out your favorite seasonal fruits and experiment with making these fun fruit waters.
Fresh fruit drinks are very popular all over Mexico and are served from large barrel-shaped glass containers.  Agua Fresca or Aguas de Frutas – literally translated in Spanish as "fresh water" or "fruit waters."  In India, this delicious watermelon drink is called Tarbooj Ka Sharbat.
Also check out Watermelon in Rose-Lime Syrup.
Learn about watermelons and the Egyptian-style of roasting watermelon seeds.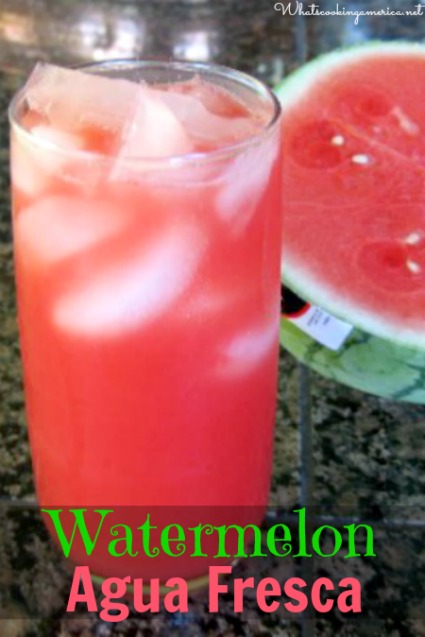 Instructional Video On How To Make Agua Fresca:
Watermelon Agua Fresca Recipe:
Keyword:
Watermelon Agua Fresca Recipe
Instructions
Cut the watermelon into roughly 1-inch cubes. If you're using other fruits, prepare them accordingly, removing seeds or skins and cutting into small pieces if necessary.

In a blender or food processor (I used my Vitamix), combine water, watermelon, sugar, and lime juice until smooth. NOTE: Traditionally an authentic aqua frescas are made without blenders and done by simply mashing the fruit with a fork or masher before adding the water and sweetener.

Pour mixture through a strainer into a pitcher, forcing through most of the pulp. Chill at least 30 minutes before serving. Serve with or without ice cubes.

As a decorative touch, add slices or chunks of matching fruit just before serving.

Per Serving - 0 fat grams, 93 calories, 2 WW points
Recipe Notes
* To choose a watermelon, look for one that is firm, heavy for its size, free of bruises and cuts and creamy yellow on the side that sat on the ground as it grew.  Cut watermelon can be stored, covered, in refrigerator for 3 to 4 days.
** The amount of sweetener needed will vary depending on the sweetness of the fruit you are using. Some may not require any at all.  Sugar substitutes may be used to reduce calories further.
Variation Ideas:
Agua de Melon – Use cantaloupe or any other melon
Agua de Fresa – Use strawberries – Check out Strawberry Agua Fresca
Agua de Papaya – Use papaya with the addition of some lime juice
Agua de Pina – Use pineapple – Check out Mexican Pineapple Water – Agua de Pina
Agua Fresca de Pepino – Use peeled, and seeded cucumbers with the addition of lime juice.
Watermelon Facts:
Did you know that watermelon is actually a vegetable and not a fruit? It is also related to the pumpkin, cucumber and the squash.
Did you know that every part of the watermelon, including the seeds and the rind is edible?  Also a Watermelon consists of 92% water and 8% sugar?
The natural juices are a great alternative to alcohol and also to unhealthy soft drinks.  The watermelon and melon have diuretic properties, assisting in kidney function.
Consumption of watermelon is believed to increase the immune resistance of an individual since it is rich in antioxidants. It is also believed that eating watermelon helps in improving the eyesight of an individual.  Watermelons are a rich source of antioxidants, thereby preventing the risk of heart attacks in individuals.  They are also associated with reducing the risk of diabetes and asthma.
Comments and Reviews