Bacon Waffles with Peaches is a summer breakfast favorite during peach season.  The addition of bacon in these waffles take the taste buds to a new level when you bite into this waffle treat.  It is amazing how the peaches, bacon and maple syrup make a perfect flavor combination that is sure to make everyone hold out their plates for more.  I don't know about you but I can never seem to keep up with the demand when it's waffle day at our house.
Fresh peaches are a special treat that have a really short window. I like to find an orchard and pick a few pounds just to eat fresh. I wish that everyday was a fresh peach day. After a few ripe peaches, I start to wonder what else I can make with them. Enter, Bacon Waffles with Peaches. I would never make this with canned peaches so it is definitely a late summer treat. These waffles would be perfect for a weekend brunch as well.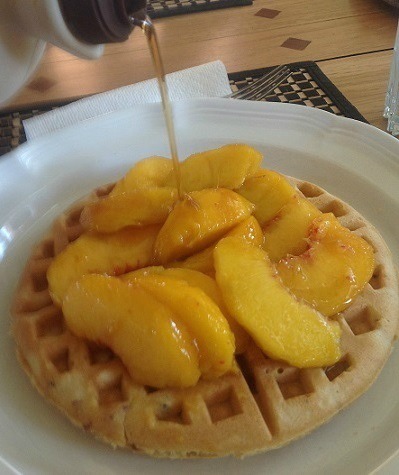 Bacon Waffles with Peaches - Bacon Infused Waffles Recipe:
Keyword:
Bacon Infused Waffles Recipe, Bacon Waffles with Peaches Recipe
Ingredients
4 to 5

fresh

peaches,

sliced and set aside

12

slices

bacon

(thick, good-quality)

3

cups all-purpose

flour

1

tablespoon

baking powder

1

teaspoon

baking soda

1

teaspoon

salt

1/4

cup (firmly-packed)

brown sugar

2/3

cup

vegetable oil

or canola oil

4

large

eggs

2

teaspoons

pure vanilla extract

2 1/2

cups

buttermilk
Instructions
You can cook the bacon on a stove top, in the oven, or microwave (check out how to make oven-baked bacon). Each of these methods produce crisp bacon. Once the bacon is cooked to your liking, transfer each piece of cooked bacon to a cooling rack or a plate lined with paper towels. Dab each slice of bacon to remove any excess grease. You want to avoid having residual grease in your waffle batter. Either crumble or cut up your bacon into small bite-size pieces; set aside.

In a large bowl, combine the flour, baking powder, baking soda, salt, and brown sugar. In another bowl, whisk together the eggs, vanilla extract, and buttermilk and oil until combined. Add the egg mixture to the dry ingredients and fold until well incorporated and smooth. Stir in the bacon pieces.

Cooking the waffles:

Following manufacturer's instructions for your Waffle Baker and preheat waffle iron.  If you do not own a waffle iron, you can still enjoy this breakfast treat by simply turning them into pancakes.  Spray both the top and bottom surfaces of the waffle maker with a light coating of nonstick cooking spray.

Depending on the size of your waffle iron, pour the prepared batter onto the center of the heated bottom waffle grids. The amount you need will depend on the size of your waffle iron, whether it's round or rectangular. Do not fill the entire grid plate with batter as there will be no room for expansion and batter will overflow the sides of the waffle iron. Close waffle iron and cook.

Small waffle iron - approximately 1/2 to 1/3 cup batter
Large waffle iron - approximately 2/3 to 1 cup batter

Cook for 5 to 8 minutes until light brown, depending on the heat and the size of your waffle iron. Do not be tempted to open the waffle maker before the waffles are done cooking, as the top and bottom of the waffle may separate and become difficult to remove when it is finished. Repeat with remaining Bacon Waffle Batter.

Serve waffles immediately or hold in a 200 degrees F. oven until ready to serve.

NOTE: The waffles are best served fresh from the waffle baker, but can be held in an oven until all of the waffle batter has been cooked. As you make the waffles, place them on a wire rack set above a baking sheet. Cover them with a clean kitchen towel and place the baking sheet in a 200 degrees F. oven.

Serve the waffles topped with sliced fresh peaches (or other fresh fruit of your choice) and warmed pure maple syrup.
Recipe Notes
* If you do not have any buttermilk, you can make a substitute.  For every cup of buttermilk, add 1 tablespoons vinegar (white or cider) or lemon juice (let stand 5 minutes before using).
Check out What's Cooking America's Bread Making Hints:  Quick Breads, Bread Machine Breads, Secrets to using the bread machine, About Yeast in Bread Making, and Sourdough Starter.
More delicious Waffles, Pancakes, and Bread Recipes for your bread making.
Comments and Reviews