This Gluten Free Banana Yogurt Bread is so very easy to make and so delicious.  The use of yogurt in the recipe allows you to cut back on butter.  I have also cut back on the sugar by substituting some sweetener for 1/2 of the sugar.
Since I have some family members and also some friends who are trying to cut back on the gluten in their diets.  They inspired me to develop this easy-to-make Gluten Free Banana bread.  Give it a try – you will not be disappointed!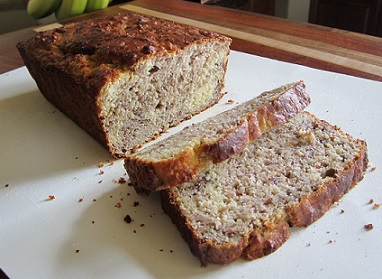 Check out Linda's Bread Making Hints:  Secrets to using the bread machine, About yeast in bread making, Sourdough Starter, and Quick Breads.  More of Linda's great Bread Recipes for your bread making.
Gluten Free Banana Yogurt Bread Recipe:
Keyword:
Gluten Free Banana Yogurt Bread Recipe
Ingredients
3

very ripe

bananas

or 1 cup mashed (preferably overripe)

1

cup

pecans

(or your favorite nuts), finely chopped

1/4

cup

butter,

room temperature

1/3

cup granulated

sugar

2

tablespoons plus 1 teaspoon

Truvia

2

large

eggs

1

cup (8 ounces)

vanilla or plain yogurt

1/2

teaspoon

pure vanilla extract

1 1/2

cups

Pamela's Gluten-Free Baking Mix*

1/2

cup

old-fashion oatmeal,

ground (Make a powder out of the rolled oats by putting small amounts into the blender or food processor at a time.)

1/2

teaspoon

salt
Instructions
I have found that baked goods taste better if you use some type of sugar in the recipes. For this reason, as the original recipe called for 2/3 cup of sugar, I replaced the total amount of sugar with 1/2 sugar and 1/2 sugar substitute. Sorry, but this recipe is not totally sugar free.

Preheat oven to 350 degrees F. Adjust oven rack middle position. Grease one (1) 9x5-inch loaf pan (grease bottom only of regular loaf pan or grease and flour bottom and sides on a non-stick loaf pan).

In a bowl, combined the mashed bananas and chopped pecans; set aside.

In the bowl of your electric mixer, cream butter, sugar, and Truvia just until mixture is light and fluffy. Add eggs, one at a time, beating well after each addition. Stir in yogurt and vanilla extract until combined. Remove bowl from your electric mixer and stir in the Gluten-Free Baking Mix, ground/powdered oatmeal, and salt until dry ingredients are moistened. Fold in the bananas/pecans mixture.

NOTE: Bake all quick breads as soon as the ingredients are assembled. Since high temperature are often called for, it is best to bake them in the center of the oven, as the heat in the top third of the oven will be too intense.

Pour batter into prepared loaf pan and bake 50 to 60 minutes or until a toothpick inserted in the center comes out clean. NOTE: Be sure and poke the toothpick already to the center of the loaf. A good check is to use an instant digital thermometer to test your bread. The internal temperature of the bread should be at 200 degrees F.

When done. Remove from oven and cool on a wire rack 10 minutes; remove from pan. Cool completely before slicing.




Storage:  Breads that contain fruit, nuts, or butter may be stored for 2 or 3 days, well wrapped in plastic wrap or aluminum foil.  May be frozen for longer storage.  After thawing frozen breads, reheat them in a 400 degree F. oven for a few minutes before serving.
Recipe Notes
*  You could use any brand of gluten-free baking mix that you desire.

I get many readers asking what cooking/meat thermometer that I prefer and use in my cooking and baking. I, personally, use the Thermapen Thermometer. Originally designed for professional use, the Super-Fast Thermapen Thermometer is used by chefs all over the world.  I only endorse a few products, on my web site, that I like and use regularly.
You can learn more or buy yours at: Super-Fast Thermapen Thermometer.
Sponsored Content
Comments and Reviews