Biscuit Cinnamon Rolls are the perfect solution if you do not have time to make cinnamon rolls from scratch.  This recipe gives you fresh baked pastries without the extra time it takes to make yeast dough.  
When I have the time, I prefer to make my Harvest Cinnamon Rolls which is a yeast dough recipe.  The Biscuit Cinnamon Rolls are a quicker method to make them.  I like to make this recipe with my own biscuit dough.  In a pinch you can use the premade biscuit dough found in the refrigerator section of the grocery store.  My mother used to make similar biscuit cinnamon rolls when I was young.  Your family will really love these!  You could also substitute your favorite biscuit recipe when making these rolls.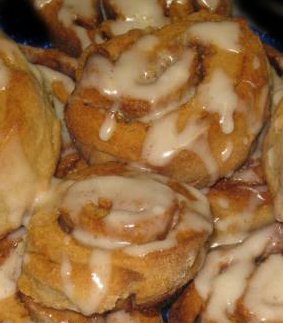 Biscuit Cinnamon Rolls Recipe:
Keyword:
Biscuit Cinnamon Rolls Recipe
Servings
:
9
Biscuit Cinnamon Rolls
Ingredients
Cinnamon-Sugar Filling:
1/4

cup firmly-packed

brown sugar

2

teaspoons

cinnamon,

ground

1

teaspoon

nutmeg,

ground
Instructions
Biscuit Cinnamon Rolls Instructions:
Preheat oven to 350 degrees F.

In a small bowl, combine Brown sugar, cinnamon, and nutmeg; set aside.

In a large bowl, sift together flour, brown sugar, baking powder, and salt. Add 1 1/2 cups of the heavy cream, stirring just until the dough forms a ball, approximately 1 minute. Using your hand, fold the dough over a few times in the bowl until all the loose bits are incorporated and the dough is smooth.

Turn the biscuit dough mixture out onto a lightly-floured work surface and gather, with floured hands, into a 1/2-inch thick 9x13-inch rectangle (do not knead). Brush the surface of the dough with the remaining tablespoon of heavy cream. Sprinkle the prepared Cinnamon-Sugar Filling over the top of the dough.

Starting from the long side, roll the dough into a cylinder; pinch seams to seal. Slice the dough cylinder into 9 equal-size rounds. Place the cinnamon rolls onto an ungreased 8-inch square baking dish or a pie plate.

While the cinnamon roll biscuits bake, prepare the Vanilla Icing.

Bake for approximately 25 to 30 minutes until the biscuits are lightly browned. When the cinnamon rolls are done baking, remove from oven, and immediately drizzle them with the prepared Icing. Serve warm.

Makes 9 Biscuit Cinnamon Rolls.
Cinnamon-Sugar Filling Instructions:
In a small bowl, mix together the brown sugar, cinnamon, and nutmeg.
Vanilla Icing Instructions:
In a small bowl, mix together the powdered sugar, vanilla extract, and milk or cream until well blended.
Source:  I have slightly adapted this recipe from the Moosewood Restaurant New Classic Cookbook.
Comments and Reviews