Easy-To-Make Biscuit Recipes
Nothing can compare to a platter of Homemade fluffy biscuits for breakfast or dinner
Dutch Oven Biscuits
No pop tarts or cold packaged cinnamon rolls or donuts on your next camping trip for breakfast.  Make yourself some great scrambled eggs and biscuits.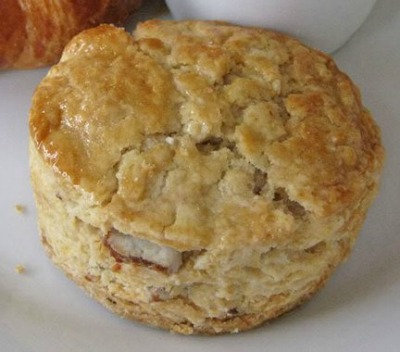 Maple Bacon Biscuits
This outstanding and very unusual biscuit recipe is by pastry chef Zoe Nathan of the Huckleberry Bakery and Cafe in Santa Monica, CA.
Herb and Cheese Biscuits
These biscuits are cut into smaller sizes than regular biscuits.  They are delicious and good served anytime of the day.
Mom's Biscuits and Gravy
I know that biscuits and gravy are not considered healthy by any means, but this is a good, hearty, stick-to-your-ribs Southern breakfast.  By today's health standards, it is not a meal you should make all the time, but as a treat every once in a while.

Perfect Flaky Buttermilk Biscuits
Homemade biscuits are so easy to make, and if you follow a few simple rules, they will always turn out fluffy and delicious.  A great tasting biscuit has less to do with the ingredients and more to do with the technique.  Follow the instructions below and you will see exactly what I mean.
Sourdough Biscuits
Another great recipe to use your sourdough starter.  Who doesn't like biscuits?
Sweet Potato Biscuits
These biscuits are a winner and I know you'll like them!
Comments and Reviews