Blueberry Pecan Banana Bread is another favorite family banana bread recipe that I modified to reduce the amount of butter used with a substitution of non-fat Greek yogurt.  I also added the fresh blueberries, lemon zest, and cinnamon for an amazing flavor combination.  Whether you enjoy a slice as a snack or for breakfast, this Blueberry Pecan Banana Bread is so flavorful.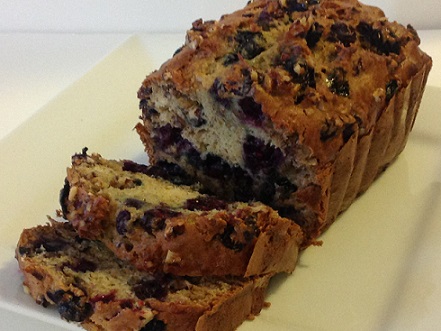 Check out Linda's Bread Making Hints: Secrets to using the bread machine, About yeast in bread making, Sourdough Starter, and Quick Breads.  More of Linda's great Bread Recipes for your bread making.
Blueberry Pecan Banana Bread Recipe:
Keyword:
Blueberry Pecan Banana Bread Recipe, Blueberry Pecan Banana Muffins Recipe
Ingredients
2

very ripe

bananas,

mashed (preferably overripe)*

1

cup

pecans

(or your favorite nuts), finely chopped

1/4

cup

butter

or margarine, room temperature

2/3

cups granulated

sugar

2

eggs

1

cup (8 ounces)

yogurt

(vanilla or plain)**

1 1/2

cups all-purpose

flour

1/2

cup

whole wheat flour

3/4

teaspoon

salt

1/4

teaspoon

baking powder

1/2

teaspoon

baking soda

1

cup

blueberries
Instructions
Preheat oven to 350 degrees F.  Adjust oven rack to lower middle position.   Grease one (1) 9x5-inch loaf pan (grease bottom only of regular loaf pan or grease and flour bottom and sides on a non-stick loaf pan).   Also see Optional Variation below.

In a bowl, combined the mashed bananas and chopped pecans; set aside.

In the bowl of your electric mixer, cream butter or margarine and sugar just until mixture is light and fluffy.   Add eggs, one at a time, beating well after each addition. Stir in yogurt and vanilla extract until combined.

Remove bowl from your electric mixer and stir in the all-purpose flour, whole wheat flour, salt, baking powder, and baking soda until dry ingredients are moistened.  Fold in the bananas, blueberries, and pecans.

NOTE:  Bake all quick breads as soon as the ingredients are assembled.  Since high temperature are often called for, it is best to bake them in the center of the oven, as the heat in the top third of the oven will be too intense.

Pour batter into prepared loaf pan and bake 55 to 60 minutes or until a toothpick inserted in the center comes out clean.  A good check is to use an instant digital thermometer to test your bread.  The internal temperature of the bread should be at 200 degrees F.

When done.  Remove from oven and cool on a wire rack 10 minutes; remove from pan.  Cool completely before slicing.

Storage: Breads that contain fruit, nuts, or butter may be stored for 2 or 3 days, well wrapped in plastic wrap or aluminum foil.  May be frozen for longer storage.

After thawing frozen breads, reheat them in a 400 degree F. oven for a few minutes before serving.

Optional Variation:  In a small bowl combine 2 tablespoons granulated sugar and 1/2 teaspoon ground cinnamon.  Dust greased loaf pans with the mixture instead of flour before adding the banana bread batter.
Recipe Notes
* To ripen bananas, allow green or yellow bananas to ripen at room temperature until the skin is covered with brown spots.  Use a potato masher, fork, or spoon to mash the bananas, leaving no chunks of banana.
** I only had a 6-ounce container of vanilla yogurt, so I added 2 ounces of sour cream for make the 1 cup (8 ounce) total.  You could also use any flavor or yogurt that you desire.
---
Making Muffins from a Quick Bread Recipe
 Same recipe – same baking time – different shape
Choose a recipe that makes about 4 cups of batter. ost quick bread recipe make approximately 4 cups of batter which will make approximately 12 muffins.
If your quick bread recipe makes two loaves, the entire recipe should yield about 8 cups of batter, from which you can make either two dozen muffins, or one loaf and 12 muffins.
A typical muffin uses about 1/4 cup of batter.  Fill each well in your muffin pan about 3/4 to nearly full. Tip:  A #16 ice cream scoop will give the perfect amount of dough for each muffin.
Oven temperature and time can be flexible.
Bake the muffins for approximately 20 to 25 minutes in a 400 degree F. oven or approximatelyt 25 to 30 minutes at 375 degree F.  Rotate muffin tin from front to back halfway through the baking time.
A good check for doneness is to use an instant digital thermometer to test your muffins (this is what I do).  The internal temperature of the muffin should be at 200 degrees F.
Remove from oven and as soon as they have cooled enough to handle, remove the muffins from pan and place on a wire rack to finish cooling (if desired).

I get many readers asking what cooking/meat thermometer that I prefer and use in my cooking and baking. I, personally, use the Thermapen Thermometer. Originally designed for professional use, the Super-Fast Thermapen Thermometer is used by chefs all over the world.  I only endorse a few products, on my web site, that I like and use regularly.
You can learn more or buy yours at: Super-Fast Thermapen Thermometer.
Sponsored Content
Comments and Reviews